The Queen's Gambit: A Masterful Must-See
Sixty-two million households tuned in to watch The Queen's Gambit, the new Netflix miniseries, in the first four weeks since it premiered on October 23. The show has broken multiple Netflix viewership records and is still gaining attention. The series, which is named after a chess opening where the player sacrifices a pawn to gain an advantage over the board, is based on Walter Tevis' 1983 novel by the same name. The story takes place in the late 1950s and early 1960s, and is about an orphan turned chess prodigy, Elizabeth "Beth" Harmon, who travels the world to pursue her chess skills while struggling with substance abuse and reminders of her childhood traumas.
Anya Taylor-Joy's performance as Beth Harmon was truly outstanding, and the show has put the game of chess in a new, more visible spotlight. I had always viewed chess as a boring and largely outdated game, so I didn't think I would like the series when I heard what it was about. I was wrong. There is so much more to the game than it seems. I'm no chess expert, but the series portrayed the chess community as intriguing, and the complexity of the game was fascinating.
I watched the seven-episode series twice all the way through. I was captivated by Beth's fierce personality and complex relationships; seeing a strong and successful female in a male-dominated world was inspiring. In an interview with TV Insider, Taylor-Joy said, "We're working, hopefully, toward a society where your gender doesn't define what your dreams are allowed to be. And I think Beth is a really beautiful representation of that because, yes, she's a female underdog. But she's also an underdog period." Yes, Beth is a female character, but she is also a brilliant chess player who works to better herself in a life full of trauma and struggle.
Another compelling aspect of the show is its incorporation of style and self-expression through fashion and design. It's hard to miss Beth's red hair and stunning dresses. Her feminine style evolved as she matured because when she was a young girl in the orphanage, she was stripped of expressing herself on her own terms. Not only is Beth smart, but she is fashionable as well, and she cares about the way she presents herself to the world. She proves that it is possible to be feminine and successful without having to conform to the male-designed stereotypes of chess. She doesn't have to choose between intelligence and her style because she does it all.
Beth's problematic relationship with substances is established from the very first episode. She was introduced at the orphanage to tranquilizer pills, which were distributed to the girls at the age of nine to keep them compliant. Beth was unsure if the pills were responsible for her phenomenal chess performance, or if she was capable of it all on her own. Every human has flaws and struggles, so Beth may seem perfect to the world around her, but she, like everyone else, is a human being and she's not perfect. That's what makes her character more relatable to viewers.
My favorite episode of the series was the finale, "End Game." All the significant characters were brought back and the show's major plot points were pulled together. As a viewer, I could feel the rollercoaster of emotions that Beth felt during her final journey of the series. I was smiling during one scene, mad during another, and crying by the end of it all. Russian was incorporated into the episode, and I understand the language, so it was nice to not solely rely on the closed captions. When translations are used, meaning and intention can get lost, so I was able to feel the more intense moments with a different lens than many viewers. Also, the last scene was a perfect wrap up of Beth's wild experiences. I could watch the series another time through and would recommend the show to anyone and everyone. There are no indications of another season as of now, so the rest of Beth Harmon's incredible chess career is left to the viewer's imagination.
View Comments (2)
About the Contributor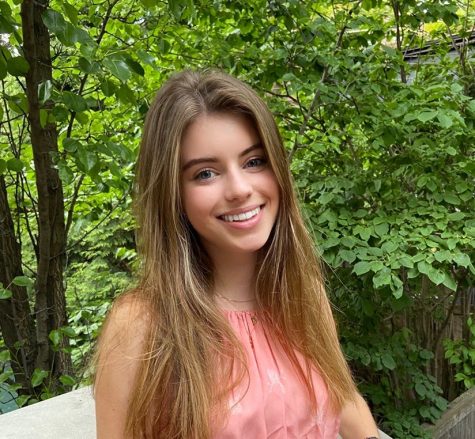 Phoebe Lembeck, Media Editor





Phoebe Lembeck ('22) is thrilled to be serving as ​The Forum's ​Media Editor. This will be her fourth year writing for ​The Forum​...