Girls and Boys Cross Country Compete at "Fake State," Ava Parekh Div. II Champion
The boys and girls varsity cross country teams ended their season this year with a different type of state competition. Instead of the annual state IHSA meet, a company called ShaZam racing stepped in to organize a club cross country state meet in which teams could choose whether to participate. Latin's girls and boys teams both ended up performing exceptionally well at the meet.
Latin's girls this year fielded the strongest cross country team in Latin School history. Competing against some significantly larger schools in the state's 2A division, they were ranked #1 for much of the season, and at the ShaZam race, their top three runners (junior Ava Parekh and seniors Olivia Syftestad and Marianne Mihas) finished first, third, and fourth overall.
Unfortunately, one of the team's top runners, senior Bea Parr, suffered a late season stress fracture and was unable to run at the final meet. Cross country scoring takes the top five runners for each team into account, so the absence of a key runner set the Romans back. Even without Bea, the team finished in sixth place.
Ava won the 2nd Division of the ShaZam meet (equivalent to the 2A section of IHSA) in a time of 17:38 over the 5-kilometer course, beating the second place finisher by more than 20 seconds and capping off a season in which she won every race she ran. With a year of high school cross country still to go, Ava already is one of the top distance runners in the nation.
Ava noted that the team had to overcome unique challenges amid COVID-19 but said she was happy with how the socially distanced season went. "We ran in much smaller races and had to practice in small groups," she said. "It was different, but nice to still have the normalcy of going to practice and running."
Olivia, who emerged as a star runner this year, echoed Ava, saying, "Practice and racing provided a regimented aspect of our schedule and gave us something to look forward to each day. I am so grateful to have been able to compete to the extent that we did, especially as a senior."
The other girls who raced at the ShaZam meet were junior McKenna Fellows and freshman Reese Benford, and both runners did very well. This was an impressive leaderboard, as the field consisted of 160 runners. The team looks forward to another successful season next year, in which it will be led by captains Ava and McKenna.
The boys team, also perhaps the strongest cross country team in Latin history, had a record-breaking state meet. The team finished third overall, which was their best state finish yet. The boys who competed at the championship meet were sophomores Akili Parekh, Matthew Kotcher, and Will Del Hierro, junior Ryan Hardiman, and seniors Peter Bernhardt and Henry Coleman. Three of them finished in the top 20—Ryan in eighth place, Akili in 13th place, and Peter in 15th place. Latin's top three runners finished within 20 seconds of each other, a strong pack despite being spread across multiple races.
All of the other runners were also solid contributors, particularly Will, who had his best race of the season.
The boys expressed a similar sentiment to the girls about overcoming challenges in a difficult time. "It was certainly a strange season," senior captain Henry said, "but even though we had smaller meets and had to start in waves in some races instead of all together, we made the most of it, and everyone ran really well."
Ryan noted, "During my freshman year, our goal was just to make it to state, and we were so excited when we did. But now we are one of the top teams in the state. It is crazy to think about how far we have come, and I can't wait to see the progress we can make over the next few years."
This finish was a great way to end the boys season. Peter, the other senior captain, said, "I found this season to be rewarding because initially we didn't think we would have a season at all, but we continued to train and work hard through numerous challenges and ultimately reaped the benefits of our hard work. I hope that next year's team will replicate the work ethic, success, and collaboration of this year's team, and I hope our legacy is remembered."
The captains for next year will be Akili and Ryan.
Leave a Comment
About the Contributor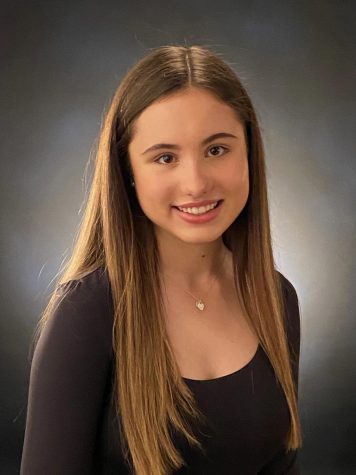 Lily Coleman, Media Editor
Lily "Pickle" Coleman (22') is a senior at Latin and is thrilled to be serving as Media Editor this year. In her time on The Forum staff, Pickle...