Field Hockey Players Respond to Spike in Team Size
Latin's field hockey season, which usually takes place in the fall, shifted to the spring in response to the IHSA's coronavirus regulations mandated on medium-risk sports, resulting in a whopping 51 registrations for the team, a large number considering field hockey's typical 11 player lineup. So how did the Latin Athletics Department respond to the logistical problems that come with a larger team size, and will the influx of field hockey players affect play time and who earns coveted spots on the varsity team?
A concern discussed among team members includes how a new wave of players will minimize returning players' chances of making the varsity team. "So many of us have worked so hard for years to make it to varsity high school field hockey, and to have a bunch of players that aren't as committed come in and jeopardize that is really hard," said Matilda Taylor, a junior who has played field hockey since fifth grade. She said she fears that multisport athletes who only plan on playing field hockey this year while it's in the spring will take away varsity spots that normally would belong to more committed players.
However, not all veteran field hockey players share Matilda's frustration. Sophomore and field hockey player McLaine Leik said, "Yes, it will be more competitive to get on varsity with more girls in the pool, but I think the competitiveness is part of the fun of the sport, and what inspires people to improve." She's excited to raise her own performance to earn play time that new players could potentially steal. As a new player, senior Charlotte O'Toole doesn't seem too concerned with vying for a spot on varsity. "Hopefully, because there are so many girls this year, the teams will be pretty good, but either way it'll be fun just to spend time with everyone," she said.
Although Charlotte didn't join the team with the intent of walking onto the varsity team, Head Coach Mackenzie Mick expresses that she won't limit who plays on varsity to returning players. "I am a firm believer that each girl has an equal opportunity to make varsity," said Coach Mackenzie. "While skill set is important, I think a varsity athlete is inclusive, hardworking, trustworthy, and a leader. I look for these qualities when naming a team as opposed to age and past experience." Although tryouts begin on February 15, she looks forward to previewing the skills of the 29 sign-ups for off-season field hockey this fall.
While the spike in interest in playing field hockey may worry returning players who hope to maintain their play time and make it to the varsity level, McLaine emphasized the importance of team building. "I understand that everyone wants playing time, myself included, but I also think having a big, supportive team is more important than how much playing time you get." She said she prioritizes connecting with members of the expanding team over accumulating more play time.
"I think the increase in numbers is a compliment to our program as it reflects our fun and inclusive environment," said Coach Mackenzie, "I hope for our program to be a safe space where players can come to make friends, let loose, learn, laugh, and feel like they are part of a family."
Leave a Comment
About the Contributor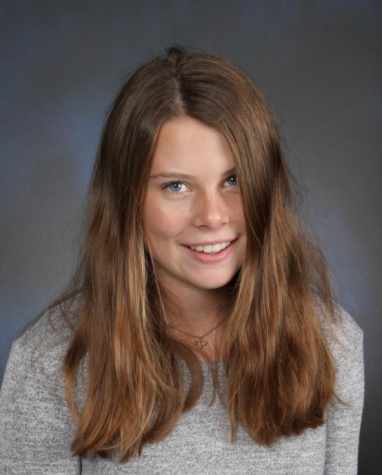 Marin Creamer, Editor-in-Chief





Marin Creamer ('22) can't wait to serve her first year as an Editor-In-Chief for The Forum. Writing and editing for the publication has been...