Joe Biden's Possible Running Mates
With August coming, Democratic nominee Joe Biden will make a decision that defines his campaign: his running mate. On March 15th, he pledged to choose a female Vice President, but he also wants someone who agrees with his center-left views and can run the country in the event of his passing. During the primaries, House Majority Whip Jim Clyburn's key endorsement landed Biden the democratic nomination. Clyburn prefers that a woman of color receive the position to appeal to a variety of demographics and highlight the nation's diversity, which may influence Biden's decision. 
The Washington Post and CNN project California Senator Kamala Harris as the number one candidate. Rising sophomore Eli Elterman says, "At this time, it is important for [Biden] to choose a woman of color such as Harris; African Americans are underrepresented in the presidential race." Harris holds power as an accomplished lawyer and senator for the most populous state, but Harris' mixed record as a prosecutor in California and Biden's prior gaffes display weaknesses in the pairing. Their views align on climate, gun control, and immigration, but Harris may not change the electoral map as a Californian. 
Elterman also mentions Stacey Abrams, 46, who lost the race for Georgia's governor. Abrams runs a large voter enfranchisement organization that could help gain votes because she faced voter suppression in the race for governor. "She doesn't have much of a political career," Elterman says, "as all she did was serve in Georgia's State Congress." Abrams's location could also help win many swing states. However, undecided independents who do not support progressive policy could hinder these victories . Though Harris' and Abrams' ideologies differ, both could bring new energy and perspective to the campaign because of their relative youth.
Atlanta Mayor Keisha Lance Bottoms, 50, made national headlines for marching with her community in the wake of George Floyd's killing. Atlanta Hawks owner Jami Gertz voted for Mayor Bottoms in 2017. "Mayor Bottoms has the ability to lead with strength, knowledge, grace, and dignity for all Atlantans," Gertz says, "she uses the entertainment industry that encompasses music and film production along with the business community to bring ideas, money, and talent to create a thriving city. She would be a thoughtful and strong leader for our country and a real fit with Joe Biden." Recently, Biden emphasized unity and care in a post-pandemic world, and Mayor Bottoms could push many swing states to the left. Her geographical location in the South combined with progressive but business-friendly beliefs would sit well with many Democrats. Biden's campaign might fear her lack of national-level political experience because of her age, yet a small stage leaves less room for controversy.
Like Mayor Bottoms, Michigan Gov. Gretchen Whitmer managed to control many of 2020's crises. Rising sophomore Leo Romano says, "Governor Whitmer has the potential to be Joe Biden's running mate due to Michigan being a swing state and the ability to manage Flint and coronavirus. Yet, she sparked controversy with her protective stay-at-home order which thousands protested at the Michigan State Capitol. Although she is divisive, she seems to genuinely care about her community." She would likely win Michigan; despite a 23% unemployment rate, she enjoys a 60% approval on her response to COVID-19. Whitmer could help Biden win the union-heavy Upper Midwest and Pennsylvania because of her geography.
Another Midwesterner, Senator Amy Klobuchar, seemed on track to become Vice President, constantly on the campaign trail in the Midwest. However, as a former county attorney in Minneapolis, her inaction regarding a police-involved shooting recently came under scrutiny. The Guardian explains, "In 2006, Chauvin was one of several officers involved in the shooting death of a man who stabbed others before turning on the police." Instead of prosecuting the case, Klobuchar sent the case to a grand jury who denied any wrongdoing. "Part of the VP's role is to advise the President on matters that affect society like police brutality. Her refusal to bring Chauvin to justice earlier…makes her incompetent for the role," rising junior Kelvin Kissi says, "Is Biden going to lose voters if she's if Klobuchar is on the ticket? Likely not. However, I think it will affect voter turnout if constituents don't like [Trump or Biden]." Klobuchar's past action and inaction could support the argument that she did not do enough to support the black community in moments of possible change.
Earlier this year, progressive Senator Elizabeth Warren dropped out of the presidential race. Though she does not agree with Biden's views on healthcare and economics, Warren remains a contender for the Vice Presidency. Rising sophomore Madison Vanderbilt says, "We need an America that makes an effort to unite each other. This means we will need some moderates in our government. This may exclude Vice Presidents like Elizabeth Warren. As the last four years have taught us, only appealing to one type of person ultimately hurts everyone." Vanderbilt brings up a key point—Biden must decide between uniting his party or uniting both parties. Whereas uniting his party may excite more Democrats, national unity could lower political tensions. In Florida, Warren lacks support since many first- and second-generation Americans fear socialism. But, Warren could do well amongst the unemployed in the Midwest, since some lack good healthcare or benefits right now.  Unlike the younger contenders, her age of 71 years old may be of concern.
House Rep. Val Demings, a 63-year-old Floridian and the first in her family to graduate college, became Orlando's first African American female police chief. Her career could be an issue for some due to her department's past use of force, but she condemned bad policing in a recent op-ed. Earlier this year, she served as an impeachment manager, which could attract some and trouble others. "She seems serious and responsible, two qualities needed to get the moral leadership we currently lack with Donald Trump as president," says rising senior Freddi Mitchell, "I was first introduced to her as an impeachment manager and I think she has great things ahead of her in politics. I don't think she is a dividing candidate for the job. If anything, she will be uniting." Rule-of-law appeals to people on both sides of the aisle and may be key to showing national unity.
To close, Mitchell says, "I wouldn't mind [Demings] being [Biden's] running mate, but out of the choices I am with Team Kamala. If only Michelle Obama could be his pick, though." 
Overall, Joe Biden could choose his running mate from a pool of extremely qualified women, though each candidate has her pros and cons. He must decide what type of balance he should search for: ideological, geographical, or generational. As for Mitchell, she may get her wish. Michelle Obama could take up the offer solely to unite the country. America can only wait and see.
Leave a Comment
About the Contributor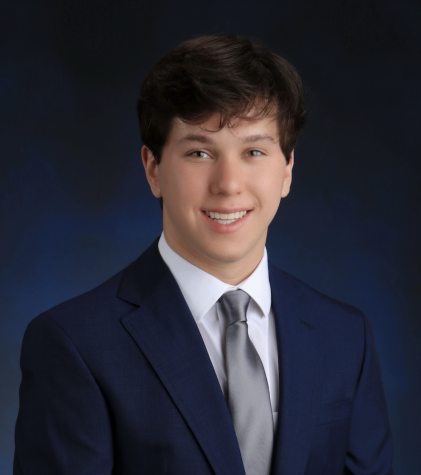 Ryan Rose, Media Editor
Ryan Rose ('23) is a senior at Latin and is thrilled to serve as Media Editor. Starting his sophomore year, Ryan has loved writing a variety of local...