The Meat Dilemma: Protecting Workers and the Food Chain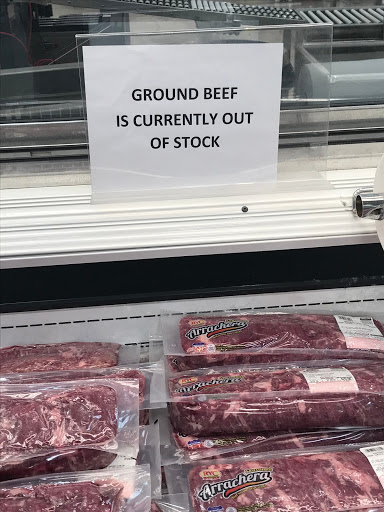 Where's the beef? Americans may soon be asking this question at their local supermarkets as meat processing plants with tight-quarters become hotspots for COVID-19 cases, many are forced to temporarily close down. Amidst the coronavirus pandemic, a question arises of whether or not America's meat supply will remain unscathed. With as many as 5,000 cases and 20 deaths tied to meat processing facilities, per a Centers for Disease Control (CDC) report, one must question the federal government's decision of jeopardizing worker safety to keep America's meat industry alive. 
On April 28, President Trump signed an executive order proclaiming meat processing plants "critical infrastructure" that should remain functioning. By doing so, meat plants are forced to stay open even though working conditions may be unsafe. The supply chain of meat products is dependent on the health of the workers. A lack of personal protective equipment (PPE) compromises worker safety, resulting in greater meat shortages across the nation. In addition, the employees in the meat industry are challenged with a potential loss of income and even their jobs if they don't come to work when they are not feeling well. The pressure of losing their livelihood has caused many to continue working while sick.
Currently, the one clear solution that keeps the meat supply chain intact while protecting workers is rationing. With imminent meat shortages, major food suppliers such as Costco and Kroger are now imposing restrictions to limit the quantity of meat purchased by customers. Freshman Anton Schuster shopped at Costco with his family last weekend. "The shortage is real. There were really strict guidelines for the amount of meat one could purchase; each customer was only allowed one steak package," Anton says. ​As the meat scarcity and supermarket restraints continue, shoppers are resorting to other methods of obtaining food. Along with delivery and curbside-pickup services, food subscription plans offer convenience and cost savings. Freshman Ryan Rose and his family have been ordering meat from Purely Meat Co. during the pandemic. "We want to avoid having to go out to the butcher to get high-quality meat. Also, we thought that now, more than ever, it would be nice to support a local business," explains Ryan. As consumers find a variety of ways to continue purchasing meat, processing workers still face challenges fulfilling the increased demand.
A moral decision is emerging for meat producers. In most processing plants, working conditions do not align with the current social distancing guidelines, yet most remain open. Employees at Smithfield Foods, a pork plant in Missouri, are "​reluctant to cover their mouths while coughing or to clean their faces after sneezing, because this can cause them to miss a piece of meat as it goes by." Mr. Morgan, Latin's manager of foodservice operations, explains,  "meatpacking is one of the most dangerous jobs in America, and it has now become even more dangerous with COVID-19." These skilled workers should not have to choose between covering their mouths and contaminating the meat.
Alternative options to source meat products should also be considered. Take Latin's food service, Handcut Foods, which sources most of their food supply, including meat, from local farms. Mr. Morgan explains that luckily, "Handcut's partner farms and butcheries are being managed much better than larger producers like Smithfield." In response to the nation's morphing meat supply, Mr. Morgan and the Handcut Foods team are already discussing possible future food service scenarios for Latin.
Ultimately, the meat industry is often taken for granted. Now, hundreds of processing plants are forced to stay open while battling the increase of coronavirus cases. Skilled workers operating in dangerous conditions are being neglected at the wrong time. It's only a matter of time until this crisis strikes the Chicagoland area. To support local butcheries and farms, consider a meat subscription or delivery service before driving to a supermarket to wait in a long line only to receive a limited quantity of meat.