Virtual AP Exam Recap: Was it Worth it?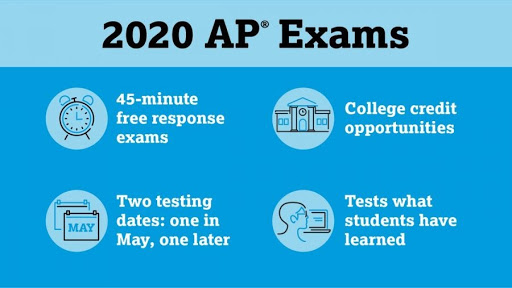 The College Board announced on March 23 that the Advanced Placement (AP) exams would be moved online. The $94 dollar testing fee remained, but it was adjusted for low income students. The traditional three-hour exams were being shortened to a 45 minute at-home exam covering topics that would have been covered in class through March. The history exams were in the form of a document based question where students were given a historical question and had to support their argument with the five documents given. The math and science exams varied, but for the most part contained two questions with sub questions to break down the work. The language tests were speaking-based. The tests were open note and internet research was allowed, but not recommended due to time constraints. The College Board claims that the tests were cheat proof, and that they can detect if a student is contracting another student during the test, which is strictly forbidden. In an email to his Honors United States History and Historiography classes, Dr. June said, "I think this is a best case scenario in terms of the setup for the exam, based on the kind of work we do in class! In fact, this is the exact kind of work you have been preparing for all year!! If you are taking the exam, you should feel very good about the preparation you already have for this kind of question. And, if you were on the fence about taking it, I would feel very good about making the decision to do so." But, as many suspected, the exam didn't turn out to be all sunshine and rainbows .
According to USA Today, the College Board claims that around 1%, or 10,000 students reported complications with their online exams, many of them based on an inability to submit responses. Junior Frances Hutchison explains that about 25 minutes into her AP United States History exam, her WiFi cut out and her Google Document stopped working. "When I was trying to reload the Google Doc page I accidentally reloaded the College Board page which is what they tell you not to do," so Frances has to retake the APUSH exam on June 3rd. "I'm kind of mad that I have to keep studying, but in the grand scheme of things it'll be good to study more," she explains. 
Junior Marianne Mihas also had issues with submission. On her AP Physics C: Mechanics exam, she says, "the way I was doing it and the way it worked for my first question and how it had worked for all the times I had practiced doing it was I would take a picture on my phone, text it to myself, and then it would pop up on my computer and I would just drag and drop it." She completed her first question with no problems, but she says, "For my second question, my AP portal kept rejecting the photo–I got the little bouncing sound. It wouldn't accept it. I kept doing that, and I was like 'what is going on?' I could submit photos that I'd already submitted, but it wouldn't let me put in any new ones. So in a panic, I was hoping it was the right two and I had like 15 seconds left, so I clicked two photos that looked like they'd been put in there and submitted them, and I went back and they were the two photos from my old test, it just submitted them twice." As a result, she will also be retaking the exam on June 11th. "It just made me feel so frustrated because I wasn't super confident in my answer to the first question, but my second question I really felt like I hit it out of the park." The idea of waiting so long to retake the test after studying for the initial one is also frustrating to her: "I was thinking, 'I really have to do this again?' The tests are so far apart. I took the test last Monday, and I don't take the retake until not this Monday, but the Monday after. So it's a really long time for me to wait to do this retake."
Junior Sujan Garapati had similar issues for his AP Physics C: Mechanics test: "I tried airdropping my picture and emailing it, but for some reason neither went through and it wouldn't upload." He has requested to retake the test during the week of June 1st, but regardless, "In the moment, there was nothing I could do, which felt awful."
After complaints, the College Board sent an email saying that "beginning Monday, May 18, and continuing through the makeup window, if you're unable to upload your response due to a technical disruption, you'll be able to email it to us immediately following the conclusion of your browser-based exam."
While the College Board claims that only 1% of students reported issues, making the online test a success, a lawsuit filed against them says differently. According to the lawsuit, "as many as 20% of students who attempted to test in the first 3 days of AP testing last week were unable to upload their answers," said an email from Academic Approach, a Chicago based test prep company, to families.  The lawsuit "include[s] breach of contract, gross negligence, misrepresentation and violations of the Americans With Disabilities Act," says Forbes. The lawsuit demands over $500 million. 
With an ambiguous number of students reporting testing complications, was the $94 online test worth it? With regards to the lawsuit, Sujan says, "I feel that what happened was to be expected. Our world is nowhere close to perfect and expecting a testing website to be perfect during this time is unattainable." Frances has ambivalent feelings towards the online test, "I think the test is worth it because it's way less time than the normal one so hopefully that means you get a better score" but she also recognizes that it may not be that simple, "the uncertainty with the grading because of the shortened test is a little weird." Junior Lila Weiner from Walter Payton College Prep, says, "I think that overall online testing was kind of a mess. It was frustrating that all of the content that I had learned this year would be measured by one essay question." She also notes, "I also know one girl who didn't submit her essay on purpose, because she didn't like her prompt and wanted to retake the test in June."
Marianne, recognizes a reason that many might feel that this online format was worth it: "I think there are certain AP's this year that I wouldn't have taken any other year just because they're so long. I would never have taken the APUSH test a different year. I would never have taken the English one on a different year. But because I signed up this year and it was just writing an analytical essay based off some documents, which is what we do best at Latin really, I was like 'okay well I should take these."' Marianne ended up taking 5 AP exams: Physics C Mechanics, BC Calculus, French, APUSH, and English Composition.
After taking both humanities and STEM AP exams, she says, "you can get a good idea of a kid's analytical ability and I think that's so much more important than being able to memorize stuff, but when it comes to the math and science ones, you can learn a lot about somebody in 600 words, but to learn how good somebody is at a whole year of math, in two questions, I think is a lot harder, especially because we didn't all have the same question and the topics that they could throw at us were so narrow because there's only so many things that you can't Google and you could plug it into a calculator and figure it out really fast, and they can't restrict that." Marriane explains that "the way they did it this year was they really had to do a lot of graphs so that you couldn't cheat and plug it into the calculator, they couldn't just give you equations. They can only really ask you so much." 
In their quest to track down any student using social media to their advantage during the test, the College Board has supposedly gone under the alias "dinosauce313" on Reddit. In an effort to make light of the situation and to feel a sense of togetherness, Twitter has a plethora of online AP test-related memes posted by students. While online testing has it's pros and cons, suffice to say, everyone is doing their best during this time. It is important to note that nothing will ever be 100% fair, and that this is the first time an at home AP test was administered. While mistakes were bound to be made, does the feeling that the College Board was just trying to profit override the company's sentiment of trying to help students?