The Latin Community Adjusts to E-Learning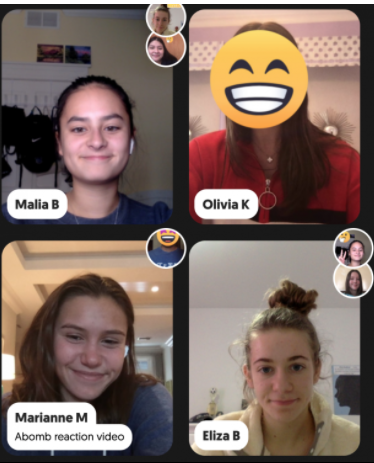 After two weeks of e-learning, students and teachers are adapting to their virtual classrooms, attempting to develop a routine amidst the worldwide pandemic. While the situation is nowhere near ideal for learning, teachers are working to keep students engaged with various activities and lesson plans.
Each class holds a synchronous meeting at least twice every cycle. However, the first week was less about learning and more about adjusting. "The first [synchronous class] was like a syllabus day all over again," says junior Marianne Mihas. 
Many teachers spent their first thirty-minute class sessions going over the plan for the next month. Some teachers outlined the plan to continue with quizzes and tests remotely, but Mr. McArthur decided that "[he] only plans to assess his students on their engagement with the material," meaning no traditional quizzes or tests. Senior Bella Flerlage sees both the pros and cons of remote assessments. "I think for kids who didn't do as well last quarter, they deserve the opportunity to rebuild their grades, but on the other hand, by creating tests online, there is a greater risk for cheating," says Bella. "I think instead of tests and quizzes there should be some sort of alternative form of assessment."
Although group work is more difficult through a computer screen, faculty and administration have attempted to make learning more interactive. One reason Latin purchased a Zoom to replace Google Hangout was Zoom's breakout room feature. Mr. Greer says that "many students are enjoying [the feature] for small group conversations," and "faculty will have access to both [Zoom and Google Meeting] based on how they are instructing."
Emily Breitenecker, a senior who must spend some of her final months at Latin remotely, has a positive outlook on the situation, saying, "[she] doesn't mind e-learning." While she mentioned it is more difficult to focus out of the classroom setting, she added that she enjoys the freedom of the schedule. "I can make my own lunch, clean my room, and exercise all between my classes," she says.
Junior Waleed Bitar utilizes his time similarly to Emily. "A lot of teachers are sharing the plan for the week on Monday," said Waleed, "making the workload more manageable and allowing me to prepare my schedule for each day." Waleed also recognizes that "[his] teachers are working really hard," and he thinks they have done a great job given the circumstances. 
Teachers are showing their ability to innovate lessons by moving digitally. In the athletics department, full of classes that are traditionally "hands-on," Ms. Carlson is finding ways to still have class. She is currently teaching lifeguarding, which she says is "not the same as teaching in person." In addition, Ms. Carlson has gone into school twice, noting that it looks  "immaculately clean, but it [feels] very eerie for a place that is usually so vibrant and full of energy to be completely silent and deserted."
Similarly to the athletics department, in the art department, teachers are constantly thinking of new ideas to help overcome the challenge posed to visual arts classes. "It's pretty different from walking into one another's classrooms like we normally do on the 4th floor," said Mr. Haverland, "but we all have to adapt to the situation and I think we are doing the best we can." One example Mr. Haverland cites as a useful tool is pre-recorded video: "the students can watch it, pause it, and replay as needed."
Freshman Devin Abraham, a student in Global Studies: Visual Arts, uses the flexibility in the schedule to his advantage, but he finds it more difficult to learn through a screen. Although he is using this time to practice "learning independently," Devin hopes there are more opportunities for group work, so he can "collaborate with his peers." He understands it's difficult in an art class, but he would like to see more opportunities in Global Studies: Visual Arts to discuss in small groups.
Alanna Madry, a sophomore, is seeking one thing in the coming weeks of remote learning: more organization. Alanna sees e-learning as "a lot of trial and error in order to understand what works best for teachers and students." Alanna recognizes "[everyone] is in the first stages of figuring out what works best, but as of right now things seem overwhelming with every class posting information on different platforms." Some teachers are posting everything on Romannet, while others utilize Canvas or Google Classroom.
Mr. Greer confirmed Alanna's confusion towards remote learning. He referenced the feedback survey sent out last friday, where students rated the clarity of remote learning communication as a 3.73 out of 5. Mr. Greer says the "focus in the coming week is to streamline the manner in which we use RomanNet to communicate assignment expectations."
Nonetheless, Mr. Greer feels a lot of the early results from the survey were encouraging. Students reported on average to be spending three hours and forty-six minutes on work a day, that their engagement was at four out of five, and that over ninety-one percent of students felt comfortable sharing feedback with their teachers. 
Mr. Edwards thinks that the success is more than a number on a survey, but could potentially change learning moving forward. "I think this moment has asked administrators and faculty to think concretely about our collective teaching and learning practices, and to explore the ever growing range of digital tools and pedagogical methods available to optimize the educational process," he says. "I think we are already seeing a great deal of innovation in the design and delivery of classes, and I suspect many of those innovations will last far longer than this period of separation."
Just as students seem to feel satisfied with the lessons created by their teachers, Mr. McArthur has been equally impressed by the work of his students. "I've been really impressed with the quality of my juniors' written posts and my freshmen's energy," he says. In terms of improvement, "the biggest space for improvement lies in getting over the awkward Zoom silences and learning how to create work that is challenging, yet doable."
Teachers are working to collaborate with one another. Mr. Greer has scheduled full faculty meetings once a cycle, and in the first meeting he "reviewed some points of emphasis regarding how we are communicating assignment expectations on RomanNet in response to feedback."  Just as many students have had the opportunity to utilize the breakout rooms, Mr. Greer gave the faculty some time in smaller groups in the hopes of "reconnecting socially," and to "share how the first week had been going." Mr. Edwards says that the meetings are "not the same as being in person, but it is still really nice to hear people's voices and see their faces." 
Teachers aren't the only faculty members whose jobs have shifted. Mr. Edwards also continues to work hard remotely, but misses students dropping by his office, or having individual conversations with colleagues around the building. He thinks "[his] work is more transactional than relational at the moment." However, "as [students and faculty] all get more comfortable with the digital tools available and learn to optimize their functionality in fun, creative ways," Mr. Edwards said "I sincerely hope to return to normal exchanges."