Performing Arts Classes Adapt to E-Learning Format
The recent shift to online classes has sparked the question: How can performing arts classes continue virtually when they rely on physical congregation? Dance, improv, and chorus can no longer perform on a stage, yet students continue learning and benefiting from their art. Mr. Di Gennaro, Latin's chorus teacher, says, "I believe that expression is even more important now that the world is dealing with some heavy thoughts. With that in mind, this shift has required some deep flexibility from the students." 
Mr. Di Gennaro explains that students need to trust their own voice more now without the support of their peers. He says, "While the students all sing at the same time, they are on mute due to the jumble of sounds the various lagtimes produce. This leaves the majority of learning almost completely on each student's shoulder." To guide students in learning their parts, Mr. Di Gennaro uses "plunk tracks," a system where he can heighten the sound of one part of a song, so students can identify their role and match it.
Improv, a performing arts discipline that requires trust in one's peers, attempts to recreate the feeling of a live set through a screen. Due to the importance of interacting with each other in improv, Mr. Baer holds additional synchronous classes on top of the mandatory two per cycle. "In improv, we are just starting to experiment with doing scenes and exercises through Zoom and Google Meet, learning the techniques and tricks that we can utilize to make it engaging and performative," he says. Mr. Baer searches for new, creative ways to enhance performances with Zoom. He says, "I've been watching a lot of theatres around the country stream their shows over Zoom, and it has been cool to see what the medium can add to a performance." He plans to arrange a Zoom improv show for Advanced Improv in two weeks, displaying his ability to adapt to the current situation. 
While Chorus and Improv have tried to recreate the feeling of an in-person class, Ms. Durant's dance classes have switched their focus. Ms. Durant says, "I've had a lot of people ask me how I'm teaching online. There seems to be an assumption that I'm dancing around my living room in front of a camera. I'm not." Instead, she's teaching more about the history of dance rather than the physical aspect, with the exception of her jazz class which will be dancing together live. "Dance is a huge umbrella," Ms. Durant says, "there is a lot to know. Why not watch and try to learn from actual pioneers in the field? We have a lot of content at our fingertips online." She uses the resources at hand to teach, but also educates students on dance by collaborating with Hubbard St. Dance Chicago. She says, "In an attempt to keep them afloat, I'm offering students in my classes a Hubbard St. residency—teachers from the HSDC youth program have created videos of specific dance classes at every level. Students will have access to ballet, jazz, modern, tap, and conditioning." Ms. Durant creates a new class dynamic by both helping out Hubbard St. Dance Chicago while it's closed and providing her students with new opportunities online.
She guarantees students will receive an opportunity to showcase their talent, saying, "Students will still be 'performing'—whether uploading a quasi TikTok video to Flipgrid, creating an exquisite chorus group dance, or making a dance based off the manifesto [they] wrote for a choreographer's creative process, students will still have the chance to jump around and get creative." On top of a smaller presentation online, Ms. Durant will host a dance concert in the fall based on the work achieved by dance classes this year. 
Working alongside Ms. Durant and the other performing arts teachers, Mr. Di Gennaro is planning a virtual spring concert based on the school's theme of "together" and inspired by Eric Whitacre, a composer who created virtual choirs. "Basically, the performers send me videos of themselves singing while listening to a track that helps keep everyone in time on headphones. All of the audio tracks are then pulled out and mixed, the videos are spliced together, and everything is synced back up to create a memorable, musical moment!" He looks towards the event enthusiastically and encourages people to participate. Mr. Di Gennaro says, "From choreographing dances to the songs, to sharing visual art inspired by the works, or even participating in the singing, I encourage any and all students, faculty, staff, families, and alumni to reach out with ideas for collaboration. We, especially this year's seniors, have lost a lot due to COVID-19, so let's take those ashes and create something beautiful and unforgettable!"
About the Writer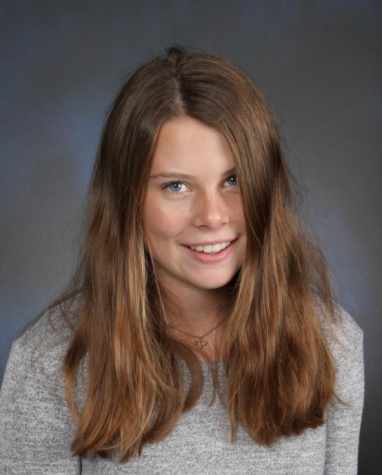 Marin Creamer, Features Editor





Marin Creamer ('22) is excited to serve her first year as a Features Editor for ​The Forum​. She enjoys writing articles highlighting people,...