President Trump's Response to Pandemic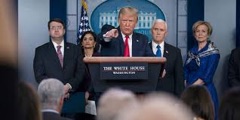 Surpassing 1,000,000 cases worldwide, novel coronavirus is having massive medical and political effects around the globe. In the United States, President Donald Trump signed off on a recent Congressional Stimulus Bill which will distribute more than $2 trillion to American citizens, businesses, and industries. Despite this legislation, which won't entirely go into effect for weeks and possibly months, millions of Americans have filed for unemployment, the economy continues to perform poorly despite massive interventions, and citizens around the world are fearful of what is to come.
Throughout history, people across the world have looked to elected leaders for guidance during times of crisis. Today, presidents are looked upon to be promising voices of hope and pragmatism during a time of need, and many Americans are turning to Trump for his guidance.
President Trump's Response
U.S. President Donald Trump's inconsistent strategies have left many in the Latin community uncertain about the country's response to the virus. The initial confusion began on January 22, 2020, when CNBC Anchor Joe Kernen asked President Trump whether or not fears of COVID-19 developing into a pandemic were realistic. 
"No. Not at all. And … we have it totally under control. It's one person coming in from China, and we have it under control. It's—going to be just fine," said the President referring to the case's original appearance in the Hubei Province of China.
More than a month later, when the virus exceeded 80,000 cases worldwide, President Trump, while campaigning for his reelection in South Carolina, suggested Democrats were "politicizing" the virus. Mr. Trump called it their "new hoax," referencing previous investigations launched by congressional Democrats into Trump's personal and professional dealings.
On March 17, the President completely abandoned his previous beliefs about the virus, stating that he "felt it was a pandemic long before it was called a pandemic" despite his numerous previous statements downplaying the effects it could have. 
"That was what caused me to stop listening to Trump as a valued source," said sophomore Joe Schwister. Schwister feels that "Trump has failed to give the nation a reason why he should have a voice during the pandemic.
President Trump Refers to COVID-19 "the Chinese virus"
The President also referred to the coronavirus as "The Chinese Virus," which sparked lots of controversy among Latin and the nation. Defenders of the President say that he was only referring to how viruses of the past have been named by the place they are thought to originate from; The Spanish Flu, The German Measles, The Middle East Respiratory Syndrome (MERS), and others.
Critics of the President say he went out of his way to intentionally characterize the virus as innately Chinese despite the World Health Organization officially deeming it "COVID-19." Many also say the operative use of this term could alienate the 21 million Asian-Americans living in the United States today.
"Trump deeming COVID-19 'The Chinese Virus' is insidious ignorance and blatant legitimization of all the xenophobic attacks and hate crimes being transgressed against East Asian-looking people," said Sehar Dey-Kohli, head of Latin's Asian Student Alliance. "Asian-Americans have nothing to do with the inception of the coronavirus and the virus literally came from bats."
Dey-Kohli continued, saying, "Those who believe it's an act of Chinese bioterrorism are ignoring the fact that Asian families' businesses are failing and they are as scared as anyone about getting the virus. What's important is for all of us to stand together and fight against the virus. Asian-American healthcare workers are helping so much and we're extremely proud of them."
The President's allies have been sharply critical of the Chinese government's handling of the virus. An ally of President Trump, Arkansas Republican Tom Cotton, for example, said that "China unleashed this plague in the world and there will be a reckoning when we are on the backside of it."
After being condemned for referring to the COVID-19 pandemic as the "Chinese virus," President Trump clarified on Twitter:
It is very important that we totally protect our Asian American community in the United States, and all around the world. They are amazing people, and the spreading of the Virus….

— Donald J. Trump (@realDonaldTrump) March 23, 2020
Trump Signs the Stimulus Bill
Apart from foreign relations, Americans have expressed gratitude that the President has instructed skilled medical experts like Dr. Anthony S. Fauci and Dr. Deborah L. Birx to mitigate the virus and to communicate updates with the American people. A recently debuted ABC News/Ipsos poll found that 55% of Americans approve of the way the President is handling the crisis compared to 43% who disapprove. 
Much of the national approval has likely stemmed from the fact that the President has promised to move swiftly to legislatively combat the Coronavirus via an emergency stimulus, something that many Latin students are in support of as a provisional solution. 
The multi-trillion-dollar stimulus package, the largest spending bill in the history of the world, passed Congress in the early afternoon of March 27 and was signed almost immediately by President Trump. While the 880-page bill is intricate in layout, it promises to distribute a total of $290 billion in one-time checks and direct deposits to eligible American citizens, $504 billion to large businesses, $377 billion for small businesses, and more than one trillion in additional funds to a conglomerate of other sectors that have requested assistance. 
Latin Sophomore Charlie Williams feels the stimulus package provides "a great answer for now," but is skeptical as to whether or not the legislation would be effective in the long term.
She says, "I know that because these problems are adapting and evolving so quickly that it's hard to combat them on a national level officially and effectively but I am a little nervous about the long-term damage because where is that money coming from?"
Williams poses a question that economists are trying to answer because, even though the government is paying for this stimulus package, they are using funds, whether they currently exist or not, that were or are soon to be provided by taxpayers. Nonetheless, the bill was passed and millions of American individuals and businesses will begin to receive much-needed relief.