Finals Week: Too Much Pressure?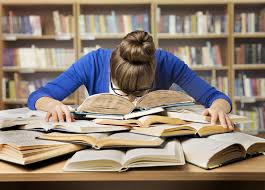 Hannah Davis, Staff Writer
Winter exams fall during some of the most intense weeks of the year, particularly for upperclassmen. Since Thanksgiving break fell so late this year, students had only two weeks to prepare. Furthermore, the band concert, the Latin-Parker basketball games, the dance show, college decisions, and the ACT all occurred during exam time. Juggling all these commitments exacerbated student stress around exams.
However, 11th and 12th Grade Dean, Mr. Edwards, believes "we have built a mythology about exam week that it is supposed to be hard so it becomes a self-fulfilling prophecy." One of the most prominent examples of this ideology is our name for exam week itself. While we call our winter exams "finals," most of Latin's classes are year long and few offer extra weighted assessments, even if they are cumulative. Although a small detail, it represents the anxiety plaguing many classrooms, hallways, and conversations.
One of the classes that still administers a cumulative midterm is Honors U.S. History (HUSH). Dr. June, one of the course's teachers, said, "I think a lot of teachers recognize the stress that comes with finals and it seems to me that many are moving away from a more traditional in-class final exam to more project-based finals. In HUSH, however, we still do have an in-class exam, which I think is important for a couple of reasons. First, it is an opportunity to think about the big themes we have covered throughout the first semester and focus on the main ideas we have studied. Additionally, as the HUSH students love to hear me say, it is a 'college-level course' and so it is good to practice these types of assessments that you will likely see again in college history classes." 
However, he tries to "ameliorate the stress as much as possible. In general, this means giving the instructions for preparing for the final exam at least a week or two ahead of time. We also spend time in class talking about the best ways to prepare for the exam, and I am regularly reminding the students to meet with me if they have any questions or concerns about preparing for the exam."
The plethora of opportunities to receive support aids students through the stressful period. In most classes, teachers spend the final week of classes preparing students for their final exams and answering their questions. Students review notes, form study groups, meet with teachers, and use online help tools, such as Khan Academy, to prepare. However, one's studying methods depend on both the student and the assignment. Senior Isha Sharma added that "for classes with simulations, it's just taking a lot of notes."
Most of the exam stress seems to center around the last opportunity to impact one's semester grades and the volume of work. The inescapable conversations about them only worsen the tension. Despite the week's lighter schedule, time management is still difficult.
One of the ways winter exam week supposedly differs this year is the placement of the math final. Last year, the math final fell on the first day of exam week both semesters. This coincidence created the misconception that math is usually first, a schedule most students favor. 
Giselle Ayala '20 notes, "getting it out of the way Monday makes the rest of the week less stressful. I like to have the weekend to focus on math, but this year I will have to work on politics, English, and college supplements." Since math exams are often cumulative, they require more preparation. The mixed schedule makes it difficult to divide the workload during an already intense time. Lucy Norris '22 thought the teachers seem to understand these issues. "I think my teacher has done a great job preparing me for it, so I'm not incredibly stressed out." 
According to Upper School Registrar Ms. Burke, the common exam blocks are usually rotated by department, so that "no one subject isn't always first. Everything is driven holistically by looking at all the requested common exams, space needs, and interdepartmental logistics." Not all students favor this technique, but it makes sense. Even from the administrative perspective, planning winter exams demands a lot of time and coordination. 
For students, the finals workload depends on grade-level. Freshman Ava Falk notes that "the week leading up to finals week has come with a lot more pressure than finals week will have." 
For juniors, this Saturday's ACT created extra stress, whether they were concerned about lost studying time over the weekend or their mental wellbeing. Junior Shahab Kousheshi said, "I'm worried my finals studying will affect my ACT performance because I haven't slept very much this week." Even without the ACT, junior Nick Pranger said, "It's still a lot worse this year and a lot more stressful. The assignments all feel really difficult."
On the other hand, seniors battle the stress of college decisions and supplements. "It's all-consuming," according to senior Haley Goldenberg. Although colleges know finals fall around this time of the year, the college cycle follows its own rhythm. The stress of supplements, testing, decisions, and finals, while seemingly unbearable now, may be their way of preparing students for the future. Students should take advantage of this opportunity to try new studying techniques and ask questions, so they are as prepared as possible when it comes time to leave Latin- a reality that comes faster than we think.
Winter exams are a chaotic time for students, teachers, and administration alike. However, they also represent the school year's halfway point and the culmination of a lot of hard work. Once they are over, take the time to relax, recharge, and celebrate. Sooner than many students realize, they'll embark on the second half of the year together and the beginning of the next decade.