Latin's Very Own Marathoners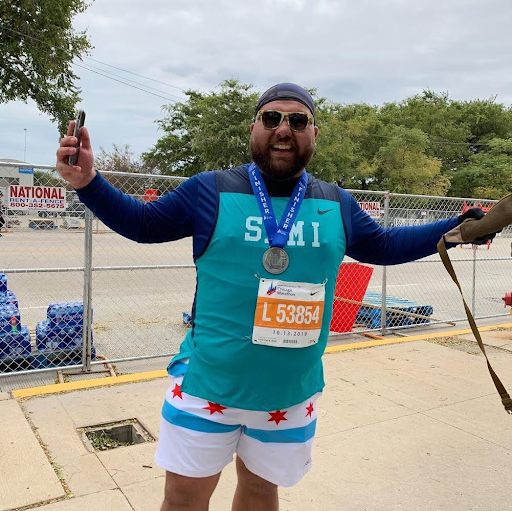 On Sunday, October 13th, roughly 45,000 runners took off from the starting line at the 42nd Annual Bank of America Chicago Marathon. The Chicago Marathon is one of the largest in the world, and attracts athletes from across the globe. This year's group represented 135 different countries, and included a large number of former and potential olympians. From Brigid Kosgie's world record-breaking 2:14:04 to the mens' heated final sprint there is no doubt that the marathon was a historic event. Regardless of pace, running 26.2 miles is quite a feat, and the Latin community is fortunate to include several marathoners.  
It is easy to question why marathoners decide to put themselves through so much pain, and it turns out that the reason varies for everyone. Before running, Senior Nick Chu shared that "This is my dad's 19th marathon and we're doing it together, and as he's getting older, he's not going to do marathons for much longer." Thus, Nick especially wanted to run while both he and his dad "could still do it."
While Nick ran to be with his family, Ms. Merrell ran to support a cause. She decided to run it again right after running last year, but this time, she ran for a charity. "It's a charity called World Vision that gives clean water to people who don't have it," she explains. It "is one of the larger charities that run at this particular marathon," as running for charity has become increasingly popular.
Ms. Merrell was not the only veteran marathoner – Ms. Carlson has been running them for the past nine years. She recounts how it all started: "I got involved right after I graduated college, so I ran my first marathon in 2010." As runners aim for faster times, marathons can be addicting. In Ms. Carlson's experience, "it didn't go very well the first time and I knew it could go better, so I just kept signing up every year and having more and more fun. It's just kind of a tradition now." She has kept improving her time since then, and she got a new personal record on Sunday, almost a decade after her initial race.

Ms. Carlson's past performances proved to be inspirational for the Latin community. Sami Aday, who ran the marathon for the first time this year, said that "I decided when she finished her marathon last year, literally the day after. She told me when the opening was for the sign up, and that's when I wanted to do it."
Just because many people run does not mean that those 26.2 miles are easy. In order to properly prepare, runners must begin training months in advance. Nick started in June, and he details his training regimen, explaining, "You start by running four miles every other day and then every other Saturday is a longer run that gets bigger by one mile until you get all the way up to twenty which was two weeks ago for me." 
Other runners had similar training schedules, with shorter runs during the week and long runs on the weekend. In marathon training, consistency is key: in preparation, Ms. Merrell shares, "Usually I will do six days a week and I'll have one off day and that'll rotate between the weeks." Her dedication is apparent, as she will "get up at, like, 4:00 am to go run or to lift" in addition to running with the cross country team after school.
With so much running, incorporating some cross training was key to preventing injury. While Ms. Merrell did some lifting, Sami expressed his newfound fondness for swimming, revealing that "Ms. Carlson and Hannah taught me how to swim. It was a part of my exercise, my practice."
Even after all that training, actually completing the marathon is no cake walk. When asked about the hardest part, Sami recounted, "The wind bothered me a lot. I cramped up at mile 16, and other than that I rolled my ankle at mile 20 at a pothole that I didn't see." Yet, he persevered: "at that point I was so close, I was like nope gotta keep going."
Ms. Carlson commented on the weather as well, remembering that the cold made it so that "Getting started was hard this year, it was really hard at the beginning to warm up and get going." Furthermore, just as runners approach their final miles, "Mount Roosevelt, that little last bit at the end, is like after all of this nice flat running of course the hill is the very last thing."
During challenging times, it was the crowd that provided the most motivation. An estimated 1.2 million people braved the cold, standing, sometimes even running, on the sidelines to cheer the athletes on. Sami praises them, saying "The crowd, it was amazing, it was a huge help. When you feel like you are tired, when you feel like you are giving up, and you just hear people screaming, yelling, cheering you on." Ms. Carlson gave him the idea to put his name on his shirt, which incited even more motivation as everyone knew his name. At one point, he recalls, "This guy was like 'is that Sami?', and I was like, yes it is, and just kept going."
Even better than the support from strangers was the support that came from friends and family. Ms. Carlson explains, "when you find someone you know, a familiar face, it's such a boost." Best of all were the crowds at the final 0.2 miles, known to the marathoners as the Finisher's Shoot. According to Ms. Carlson, thanks to the onlookers' energy and the feeling of being so close, "once you make that left turn and you can see the finisher's shoot it's so fun."
Whether, like Sami, these stories inspire you to run the marathon yourself one day, or simply motivate you to join the crowds of supporters next year, there is no doubt that the Chicago marathon does a great job of bringing people together. As Ms. Merrell so accurately put it, "It's a really fun and exciting day."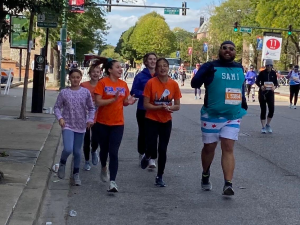 About the Writer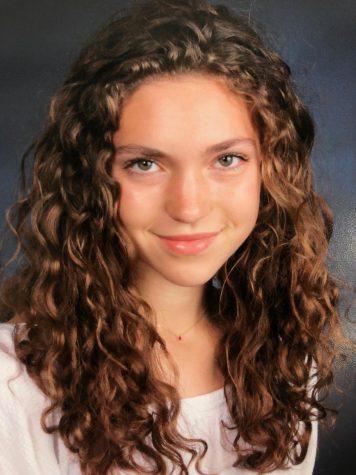 Beatrice Parr, Editor-in-Chief
Bea Parr ('21)  is a senior at Latin and is very excited about serving her second year as one of The Forum's Editors-in-Chief. In her articles, she...