Athlete of the Issue: Ava Parekh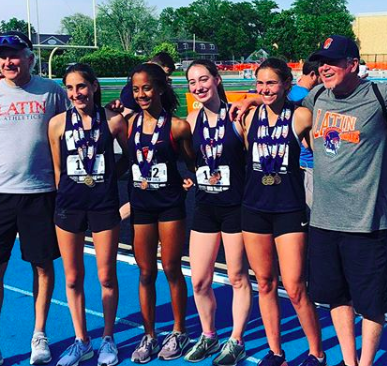 by Lucy Mitchell
This past year has been a great one for sophomore Ava Parekh, but it hasn't come naturally. She's had to work hard for her success.
After her freshman season ended, Ava kept rolling right into summer, "running postseason meets and slowly increasing mileage" to prepare for the fall preseason. During the school cross country season, she typically practices about "an hour and a half every day" and has a meet once a week (on Saturdays) which usually "take up most of the day."
All of Ava's hard work has been paying off. Two weeks ago, Ava set a personal record five seconds faster than her previous time by running three miles in 16 minutes and 53 seconds. Though a huge accomplishment, and a true testament to her progress and her dedication to improving over these past few months, it wasn't enough for her. Last Wednesday, she did it for a second time, at an incredibly competitive meet in Naperville, where she ran a 16:33.
This was twenty seconds faster than her time the weekend before, and twenty-five seconds faster than her best time had been only two weeks prior. In running, these numbers are huge, and these achievements are massive steps forward for Ava in her running career.
One of the biggest appeals of running for Ava is that "it's an extremely individual sport where you can set clear goals for yourself," however she also commented on the amazing energy that comes with being a part of a team: "It can make practice a lot more enjoyable when you have people to run and hang out with," she said.
As for her hopes for upcoming team competitions, she's very optimistic, saying her "favorite part is when the team can be really successful, which she thinks "can be this year!"
The cross country team as a whole is looking to make it to state, where the hope is that they can be extremely competitive for a top spot. The team is currently ranked third in 2A. This is an already impressive ranking made even more so considering Latin's incredibly small enrollment.
Additionally, the team recently regained junior Marianne Mihas, who was injured for the beginning of the season. This will hopefully help them excel even more as a team for the later part of the season, including the state series.
Aside from the team and Latin, Ava has big aspirations for the long term. In terms of her personal goals, she "would really like to run D1 in college, and hope to be able to continue running competitively in college and plan to keep running after, but not competitively."
The love of the sport and the joy it gives her has fueled her competitive side, yet more importantly it will continue to serve her long after her last competition is over. The characteristics that make a great athlete – hard work, dedication, and passion – are all present in Ava, have visibly paid off through her results these past months, and will hopefully continue to do so for seasons to come.
If you see Ava or any of the cross country team in the halls in these next few weeks, be sure to congratulate them on their strong season, and wish them good luck for their upcoming state series!