Meet the New Upper School Faculty
Tejas Vadali
Managing Editor
A new school year brings many changes: new or, in some cases, old lockers, freshmen, and, of course, new faculty and staff. This year, Latin added over ten members to the faculty and staff of the upper school. Seeing as faculty strive to learn new things about their students each year, students ought to do the same. Thus, each new upper school faculty member has graciously agreed to be interviewed, divulging information about themselves below so that every student in the upper school can get to know them a little better.
Mr. Kanai: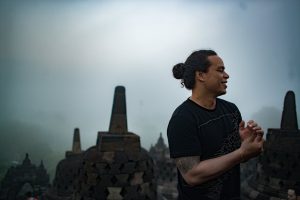 Growing up in the Washington D.C. area, Mr. Kanai took a liking to D.C. football and basketball from a young age. He continues to enjoy most major sports, though he admittedly has very little experience with hockey. Kanai has lived around the country and even the world, having resided in Washington D.C., West Point, NY, Chapel Hill, NC, and even Indonesia. He got his start in education as an English and Language Arts teacher at a D.C. public elementary school, a setting seemingly disparate from his current position. Although Mr. Kanai acknowledges that there are certainly differences, he hopes to educate and inspire his students in the same way. Kanai enjoys reading and creative writing, and he is currently in the process of writing a novel.
Mr. Kanai's favorite location in the city is Horner Park, where he enjoys laying on the large hill and relaxing. As for his favorite aspect of the city, Mr. Kanai loves Chicago's diversity, and he is amazed by the fact that people from an array of cultural backgrounds can be found on any given street.
Looking at this school year, Kanai is most excited to grow as a teacher and learn from his colleagues in order to improve his craft. In addition, Mr. Kanai is eager to discover new approaches to teaching that will better enable him to help his students improve as writers.
Ms. Lemieux: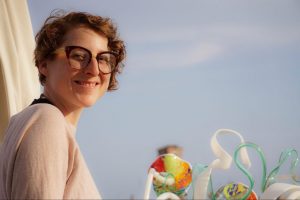 Though Ms. Lemieux was born in Berkeley, CA, most of her childhood was spent in western Massachusetts, as her family moved there when she was twelve. Ms. Lemieux stayed in Massachusetts for college, and immediately after graduating, she began her teaching career at an independent school just outside Boston. She started off teaching Spanish, eventually transitioning to math and subsequently English, which she still teaches today. In 2012, Ms. Lemieux moved to Denver, where she assumed a teaching role at another independent school. She had heard of Latin from Ms. Callis, with whom she went to grad school, so in 2015, Lemiuex moved to Chicago, and she has been here ever since.
West Town, Ms. Lemieux's new neighborhood, has quickly become her favorite location in the city. Public transportation is most certainly Ms. Lemieux's favorite aspect of the city, seeing as she takes two buses to school every morning. She loves how interconnected the public transit system is, and she appreciates how easily she can get from place to place.
This school year, Ms. Lemiuex is excited to finally feel like a full part of the Latin community. Being a long-term substitute over the past two years, Lemieux felt like a peripheral part of the community, and now that she is a full-time teacher at Latin, she is excited to meet more of the students and get involved in the community.
Ms. Fields:


Latin's newest addition to the College Counseling office, Ms. Fields, grew up in the suburbs of Chicago. After high school, Ms. Fields moved to New York for college, and immediately upon graduating, she began working in the admissions office at her alma mater. Most recently, Fields worked in the college counseling office at the Ethical Culture Fieldston School, an independent school in the Bronx. She has a pet pit bull named Midge whom she absolutely adores. As for her hobbies, Ms. Fields loves to read and write fiction, and she has published a number of short stories herself.
Though she does not know the city itself too well, Fields enjoys walking her dog on the lakefront. Additionally, she enjoys the multitude of parks and other outdoor recreational spaces that Chicago has to offer. Ms. Fields' favorite aspect of the city is the food scene, which she is eager to continue exploring.
Ms. Fields is most excited to get to know the seniors and to celebrate with them after they have made it through the grueling college process. In the meantime, she looks forward to the day when she no longer gets lost in the school's stairwells.
Mr. Martinez:


Mr. Martinez grew up just outside of Chicago in Westchester, IL. After graduating from high school, Martinez joined a military preparatory group, where he earned numerous certifications, thinking he would join the armed services. However, when offered a position to teach English in China, he Martinez jumped on the opportunity immediately. After returning from China, Mr. Martinez began studying Biology at Northeastern Illinois University. There, he helped discover the phenotypical responses of certain bacteria when exposed to simulated day and night cycles. Soon after graduating, Martinez worked with Northwestern's ChicagoCHEC program in order to get students interested in medical careers. From there, he came to Latin to become the new lab manager.
Wicker Park is Mr. Martinez's favorite location in the city, as he believes it is an excellent indicator not only of Chicago's diversity but of its inclusivity, as people from all walks of life are welcomed there with open arms. As for his favorite aspect of the city, he loves Chicago's food scene, and he is always eager to try a new eatery.
This year, Mr. Martinez is excited to work with the students to make the labs as interesting as possible. He wants to set up protocols so that lab managers in the future can make the lab experience as consistent and seamless as can be.
Mr. Bourlange: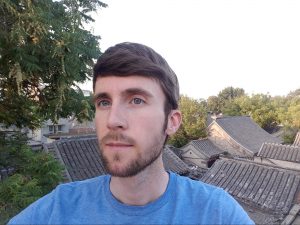 Mr. Bourlange grew up outside of Paris in the town of La Frette-sur-Seine. He moved to Paris itself when he began college, where he joined a joint program between his French university and the University of Illinois at Chicago. Bourlange began at UIC as a teaching assistant for a French course, and after earning his degree in French literature, he became a lecturer. He then taught at Chicago's French Alliance for some time before realizing he needed a change. After five years in Chicago, Mr. Bourlange decided to teach at a university in Japan, where he would remain for two years. Next, he moved to China to teach French at a university in Beijing. Finally, he moved to Seoul, where he once again taught at a university and where he would remain for another three years. After six years in Asia, Bourlange decided that it was time to return to the United States, coming back to Chicago and subsequently joining Latin's faculty.
Ukranian Village and Pilsen, the two neighborhoods Mr. Bourlange lived in prior to returning to Chicago, are his two favorite locations in the city because of the memories they bring back from his time at UIC. As for his favorite aspect of the city, Bourlange loves Chicago's architecture. He enjoys observing each building's façade, appreciating the uniqueness of Chicago's various styles.
Mr. Bourlange is most excited to work in a different environment this school year. He has taught primarily in universities and cultural centers throughout his career, and he is eager to experience working in an American high school.
Ms. Cole: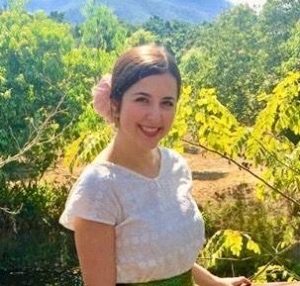 Ms. Cole will be teaching at Latin as a maternity leave substitute during the first semester. She was born and raised in Lincoln, Nebraska, and she lived there until she was eighteen years old. After leaving Lincoln, she moved to Chicago, where she has been for the past thirteen years. Immediately after undergrad, Cole assumed a teaching role at Lincoln Park High School, where she continued to teach English until this past year. Chief among Ms. Cole's hobbies is traveling. Some of her favorite trips have been to Easter Island, Seoul, and Portugal. Another deep interest of Ms. Cole's is literature. She frequently attends events in Chicago's literary community, and she even works part-time at an independent bookstore.
The Logan Square monument is one of her favorite locations in the city, as it is a hub that is integral to the neighborhood and one where she enjoys spending free time during the weekends. Cole loves the variety of people in the city; she finds the diversity eye-opening given her upbringing in Nebraska, which she described as having a relatively homogenous population.
This year, Ms. Cole is eager to learn from her new colleagues. She had taught at the same high school since undergrad, and she is excited to hone her craft by being exposed to new perspectives.
Mr. Patel:


Though born in London, Mr. Patel moved to Rogers Park when he was only one-and-a-half years old. After staying on the North Side for a few years, his family moved to Palatine, and it was there that he would spend most of his childhood. As a young adult,. Patel moved back to Chicago, though he would not remain here for long. Since then, he has lived in Southern California, Guatemala, South Korea, and Denver.
Although he teaches History now, Mr. Patel has had quite a bit of career experience. Immediately after college, Mr. Patel began working in Chicago for Chase Bank. Next, he moved to Southern California to start a job in ad sales for Fortune magazine. He then moved back to Chicago to become a marketing consultant for a group of physicians. After doing some soul-searching, Mr. Patel decided to go back to school to become an educator. He began teaching middle schoolers, and while he loved working with them, he has taught at high schools ever since.
Patel's favorite location in the city is Lake Michigan. He enjoys sitting by the lake and taking in its vastness. The CTA is Mr. Patel's favorite aspect of Chicago, as it allows him to commute throughout the city and the suburbs with ease. Though he enjoyed his time in Denver, Mr. Patel admits that traffic there was a nightmare, and he appreciates that CTA trains allow citizens to get from place to place regardless of road conditions.
This year, Patel is excited to establish his educational roots at Latin. Clearly, Mr. Patel has lived all over the world, and he hopes that Latin can be a place he will call home for years to come.
Ms. Gulinski:


Ms. Gulinski was born and raised in Lincolnshire, Illinois, where she attended Stevenson High School. Though Chicago and Lincolnshire are the only areas she has officially lived in, she did participate in a program that took her to study abroad in China for two months. After graduating from college, for a year, Gulinski worked a plethora of odd jobs from waitressing to coaching basketball, all while earning her master's and teaching certificates. Prior to Latin, Ms. Gulinski taught for fourteen years at Grayslake Central High School. Ms. Gulinski's favorite hobbies include urban exploration. She especially loves discovering new locations–whether those be eateries, parks, or even beaches–within Chicago. She loves to cook, read, and watch Chicago Bears football.
Having gotten married on Lake Michigan while watching fireworks, Ms. Gulinski admits that there is no better location within Chicago than on the lake on a Saturday night, fireworks in full display, with the skyline serving as the backdrop. As for her favorite aspect of the city, Gulinski loves how Chicago is a melting pot of different cultures and ethnicities and how that diversity and inclusivity has subsequently fueled the city's vibrant food scene.
This year, Ms. Gulinski is excited to learn more about the students, faculty, and community at Latin. She feels fortunate to be here, and she is eager to contribute to the environment. She is also thrilled about the free coffee, a perk she intends to take full advantage of.
Ms. L:


Ms. L was born in Denver but grew up just outside of Boston. She stayed on the East Coast throughout high school and college, and after completing undergrad, she studied in a yearlong master's program in New York City. Soon after graduating from her master's program, Ms. L became a 9th-grade global history teacher at a high school in New York. On August 1st of this year, she arrived in Chicago, and she has been here ever since. Ms. L loves reading and getting lost in books. She also enjoys running and has recently taken up cycling, hoping to bike to school every morning.
Ms. L's favorite location in the city is the precise spot on the Lakefront Trail where the bike path widens and Navy Pier comes into view. As for her favorite aspect of Chicago, Ms. L enjoys how neighborhood and community-oriented the city is. She loves how Chicagoans take immense pride in their areas, something she did not see as much on the East Coast.
This year, Ms. L is most excited to take full advantage of Latin's small class sizes in order to carry out simulations and debates. Additionally, she is excited to be teaching United States history leading up to an election year, as it will allow her to "bring the then to the now."
Mr. Lim: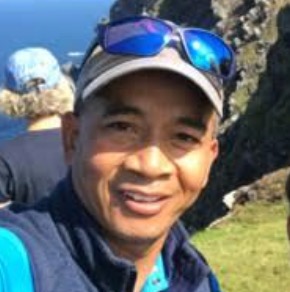 Latin's new Athletic Director, Mr. Lim, is as worldly as people come. Born in Cambodia, Mr. Lim immigrated to the United States as a child because of the Cambodian Civil War. He grew up in a small farming community outside of Portland, OR. Lim stayed in-state for college, where he was a collegiate wrestler for Oregon State University. While there, he earned his master's in Teaching and Athletic Administration. He began his teaching career in the Northern Mariana Islands, a commonwealth of the United States in the South Pacific. Since then, Lim has taught in Pakistan, France, Vancouver, Beijing, Jordan, and most recently Lugano, Switzerland. In his free time, Mr. Lim enjoys camping, fishing, skiing, and spending time with his family.
Mr. Lim's favorite location in the city is Montrose Harbor. He loves both the calmness and serenity of the harbor, but he also enjoys the occasional crashing of waves on the shore. As for his favorite aspect of Chicago, Lim loves the vibrancy of the city. He feels that if you have an interest, you can satisfy it here. He also appreciates the kind Midwestern mentality that many Chicagoans embody.
This year, Mr. Lim is most excited to connect with different members of Latin's numerous communities, whether they be individuals around the city, members of other independent schools, or those within our own building.