Baboon Observer, Professional Artist, Substitute Teacher: The Colorful Life of Eleftheria Lialios
March 16, 2022
Countless Latin students know Eleftheria Lialios as a familiar face: the unconventional substitute teacher who shares her seemingly encyclopedic knowledge on subjects ranging from climate change to TikTok trends. From her bold outfits to her trademark wireless MacBook mouse, there is no mistaking that Ms. Lialios is one of Latin's most fascinating community members.
But almost no one at Latin seems to know of her unique backstory—an inspiring tale of humble beginnings, deep sorrows, and triumphant achievements.
Did you know she conducted Ph.D.-level baboon research? Or that she was a professional sociologist who spent years psychologically treating Vietnam War veterans in the 1970s? Or that she spent 22 years teaching at The Art Institute of Chicago?
I sat down with Ms. Lialios to learn about her career, her life, and how she ended up at Latin, and I walked away from this one-hour conversation feeling energized and inspired. Her life story is distinctly unusual and outright inspiring; it is simply too good not to be shared.
A Young Immigrant
Ms. Lialios was born in Ioannina, a Greek city that borders Albania. Seeking refuge from the regime of totalitarian dictator Enver Hoxha, her grandmother led a large group of family members over Albania's Southeast mountains to begin a new life in Greece.
"They had nothing," Ms. Lialios said. "The U.S. started building bases in Greece for people who were refugees at the time, and I was born in the base, on the kitchen table, without any doctors or anything like that."
Around the time Ms. Lialios turned 3 years old, her father immigrated to Canada with no formal education. With the money he made from a short-lived dishwashing job in Toronto, he paid for the rest of his immediate family to travel to Canada.
Ms. Lialios and her siblings snuck on a boat from Greece to Italy, and then from Italy to Canada. She and her family lived with Greek relatives in Canada during her early childhood, while her father began a career as a street vendor. "My father ended up selling chestnuts, popcorn, and peanuts throughout the time we were there," she recalled.
After becoming Canadian citizens, Ms. Lialios' family immigrated across the border to the United States, settling in Detroit, where she and her father worked together throughout her childhood. "I would sell with him from the age of 4 until my early 20s."
A New Life in Detroit
Ms. Lialios' unique upbringing had impacts that were not just confined to her family life. Her parents' strict commitment to their homeland's culture and religion prohibited Ms. Lialios from befriending her American classmates.
"I was told I was never allowed to associate with Americans at all," she said. "Because we came from that region [in Greece], there was always this fear of the other. I would have to lie and say, 'Their mother is Greek' or 'Their grandmother is Greek' if I wanted to make a new friend."
Despite her parents' restrictions, Ms. Lialios performed well academically in high school. "My parents were pushing education so much on me and my siblings, but I was the only one who really grabbed it," she said.
Becoming a strong student and an avid reader earned 18-year-old Ms. Lialios admission into Wayne State University, where she received an undergraduate degree in psychology. She also pursued a Ph.D. in anthropology, which required the completion of a two-year research project on the behavioral patterns of New Guinea baboons at the Detroit Zoo. To pay for this education, she worked in the only Vietnam-era veterans multi service center in Detroit, helping to rehabilitate former soldiers and their children in the late 1970s. Managing the rigor of her education and the stress of her work was, according to her, a balancing act.
"Before I would go to my job in the morning with the city of Detroit, I'd go to the zoo and do research for two hours," Ms. Lialios said. "I ended up taking pictures of all these baboons and did statistical analysis of the photographs, and I ended up really liking photography and felt that I was good at it."
Discovering Her Passion
After discovering that her true calling lies in the arts, Ms. Lialios enrolled in a series of post-baccalaureate photography classes. "I was now going to explain life through a statement called a photograph," she said.
Now living by herself away from her childhood home, Ms. Lialios, in her early 20s, took to the streets around her college campus to photograph the community. "Wayne State was like a bubble," she described. "I lived in the center of Detroit, but if you went around the periphery of it, there was all of this high crime, prostitution—a lot of bad stuff was going on—and here I am, a girl with a camera who was fearless. I could have been killed, now that I think about it."
From transvestite bars to violent streets, Ms. Lialios sought to photograph communities and experiences which were not highlighted in the mainstream. She submitted her portfolio of work to The Art Institute of Chicago's graduate school, where she was later admitted and received a full scholarship and a teaching assistantship in 1983. A pursuit of more education brought her to Chicago.
A New Career in Chicago
Ms. Lialios graduated from The Art Institute in 1985, the same year she received an important request from one of her first major clients: the Illinois state government.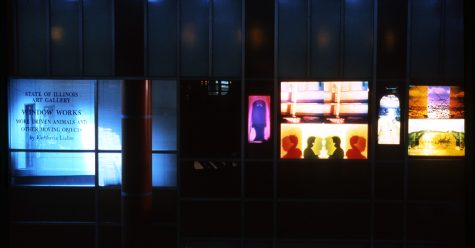 "The State of Illinois contacted me because they wanted me to make a piece for the people riding the train," she said. "So I made this piece called 'Driven Animals and Other Moving Objects,' and the only way you could see it is if you were on the L train riding in front of the State of Illinois Building." The 17.5 by 9.5 feet piece hung on Lake and LaSalle Streets for two months in 1985.
After receiving grants from the Illinois Arts Council and completing a piece at Chicago's Museum of Contemporary Art, Ms. Lialios wanted to explore her roots through photography in Greece. Seeking educational and financial resources, she applied to fly to Greece as a Fulbright Scholar. The Fulbright Scholarship Program is the United States' flagship international exchange program, established in the 1960s as a federally sponsored outlet for mutual understanding between U.S. citizens and the citizens of other countries.
Ms. Lialios was soon accepted into the selective Fulbright program, and she worked in Greece from the beginning of 1986 until the end of 1987. Her goal was to document Greece as a multidimensional experience. "It was really incredible trying to photograph the people, the religion, the landscapes," she said. "I went to the islands and documented the economic structure of where people lived—it was a huge project." Her project was complete, and her dream of becoming a professional photographer had come true. When she came back to Chicago in 1988, she had at least 30,000 photographs of her homeland.
The Art Institute asked Ms. Lialios, now an established artist, to become a teacher at their school's new multimedia program for first-year students. As an educator, Ms. Lialios laid the foundation of much of the Art Institute's first-year visual arts curriculum. "I would write the manuals on how to do video and audio and film for our department, so I had to be on top of every technological advancement that came up."
Ms. Lialios worked for decades on developing the Art Institute's curriculum. After years of working there, she saw numerous opportunities to rise in leadership positions. However, she discovered it was more fulfilling to help students rather than manage colleagues. "I didn't want to be a boss," she said. "I felt it was more important to help students and to try to help the world see new things through making art."
A Sudden Tragedy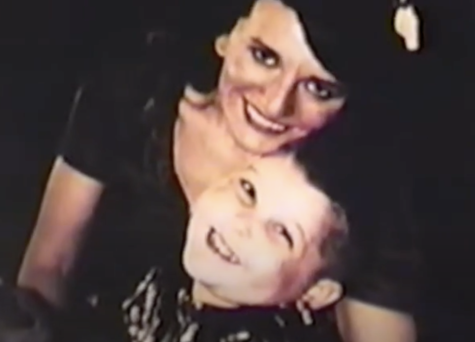 Ms. Lialios worked to build a family in the early 1990s. Tragically, her firstborn daughter, Elektra, passed away at the age of 5 due to neuroblastoma, a rare sympathetic peripheral nerve cancer.
"I contacted everyone I could in the world to try and save her," she said. "I tried alternative therapies, but none of them cured because the cancer just kept on proliferating."
Ms. Lialios took a semester of personal time from her teaching job at the Art Institute so she could grieve during a period of unimaginable sorrow. She turned this personal sorrow into an opportunity to help others who experienced similar losses. "I wanted to make a film about all of the therapies I had given Elektra and the therapies that Western medicine had given her," she said.
"I couldn't tell the doctors that I was giving her alternative therapies or immunotherapies, because they would have thought I was crazy," she said. "My film was supposed to be about giving her all of the therapies and hiding from the doctors."
In 1996, Ms. Lialios had a second daughter, Violeta, with her third husband. "Having Violeta in '96 really gave me the energy to do the film about Elektra," she recalled. The 1999 short film, I Had This Dream Last Night, prompted the Illinois Arts Council to award Ms. Lialios a Media Arts Fellowship in 2001.
"I've had a very harsh and difficult life where I've been able to survive through impossible times," she said. "This I did through reading and absorbing knowledge, applying it to my life, and again, making meaningful work. Now, tragedies are remembered and lived through, while our life continues to go above the tragedy into acceptance and continuance."
The Next Chapter
The Columbine High School shooting massacre of 1999 prompted Ms. Lialios and her small family to leave America and travel to London, where she continued her art career for just one year before moving back to Chicago.
"My ex-husband didn't like England even though I did, and I wanted to stay there, but he wanted to move back to Chicago, so we did." Upon returning home, she resumed her teaching career at the Art Institute. She divorced her husband and moved back to Europe—this time to Paris.
"I started being a visiting artist at Parsons Paris, which is a pretty big art school that began in New York," Ms. Lialios said. "In Paris, I realized it wasn't much of a meritocracy but more about connections, and that was ethically difficult for me. I also couldn't walk very well after Paris when I came back to Chicago. I knew something was wrong, so I said I'm going to have to come back to the states and get this taken care of."
Traveling Back to Chicago
The day after Ms. Lialios traveled back to the United States from Paris, she checked herself in at Northwestern Memorial Hospital, where she was informed that her hip, knee, and shoulder needed replacing. The years of standing in darkrooms for hours, carrying heavy equipment, and walking all over the world had finally taken a toll.
Ms. Lialios' hip and knee operations were performed by Dr. Lalit Puri, who, unbeknownst to Ms. Lialios at the time, is a Latin School parent. The success of her surgeries motivate her to stay active. "I continue to swim 70 laps with flips, and 25 backflips three times a week, for a little under an hour," Ms. Lialios said.
Now in her early 60s, Ms. Lialios was faced with the question of what to do next. "I didn't want to go back to teaching full time at all," she said. "But I missed the student thing. I missed having the opportunity to talk to students."
With this in mind, she covered two paternity leaves at Latin. It just so happens the person she covered for was Derek Haverland, who is now the Chair of Latin's Visual Arts Department. Many roads seemed to lead back to Latin at this point in her life.
The Present Day
Ms. Lialios joined Latin as a regular substitute teacher in 2017 and found comfort in the school's scale and pace. "When I came to Latin," she said, "I felt, 'My God, this is exactly how the Art Institute used to be,' because it's one building, one small place, I get to know everyone—this was a good fit. I know I could do more, but right now, this is what I'm doing because it allows me to write grants to do shows and to do all of this other stuff that, if I was teaching full-time, I couldn't do."
Currently, Ms. Lialios is attempting to write a $150,000 grant for a bird gazebo at Millennium Park through E(art)h Art Chicago. Using original photographs of birds that lived in her backyard, she designed models of a potential gazebo. Using chirping sounds she professionally recorded, Ms. Lialios sees an opportunity to create a peaceful sanctuary of sorts for visitors of Millennium Park just East of Cloud Gate. "It would be a way to be quiet and meditate and just reflect on everything," she said.
In closing …
Ms. Lialios is a fascinating figure who has lived an unpredictable life full of twists and turns. She probably never imagined that analyzing baboons would launch her into the photography community—or that covering for someone's paternity leave would land her a substitute teaching job at a high school. She probably never imagined that she would live in Canada, Greece, France, England, Germany, and America. Or that she would be married three times. She probably never imagined she would lose a daughter and use her artistic talent to process and express her emotions. She probably never imagined writing over a quarter of a million dollars in art grants in her lifetime. She probably never imagined that she would be a substitute teacher at Latin.
More than anything, Ms. Lialios finds a profound meaning in life by how she expresses herself and serves others. "It's all about giving back with the talents we have," she told me. "Over a lifetime, we develop multiple interests, and we keep them. And though the job I have now may not have the status I've had in other higher educational institutions, you realize status is skin deep, like beauty."
Ms. Lialios has an impressive lifetime of artwork, which can be viewed on her website. Below is a sampling of her life's work.