Latin in Rwanda Recap
<![CDATA[Anastasiya Varenytsya Thanks to a series of lucky encounters, Latin in Rwanda was created in 2010 by a group of 8 students, the beloved Ms. Dorer, and the fascinating Dr. Mardge Cohen. It took the first Rwanda team only three months to raise enough money to support a three-week summer youth program in Kigali, Rwanda. The eager — although naïve, as this was thought to be a one-time trip — promise of returning to Rwanda has been fulfilled for the eighth time this past summer.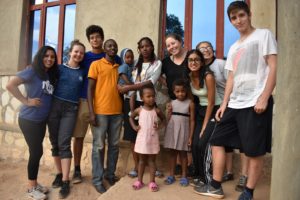 Meet your 2017 Latin in Rwanda team, left to right: Andrea Avila ('19), Anastasiya Varenytsya ('18), Nick Duarte ('19), Brynn Ovitz ('18), Mahee Gandhi ('19), Madeline Molina ('18), and Declan Stoeckel ('19); not pictured are Ingrid Dorer and Jeff Nichols. Here, we are standing with our driver, Jean de Dieu, and his family after a wonderful meal in their home outside Kigali, Rwanda (not pictured are two of his children, who are away at boarding school in Uganda).

For two weeks, we ate, played, sang, danced, painted, learned, talked, cried, took antimalarials and slept under mosquito nets in the remarkable country of a thousand hills, Rwanda. Every year, the Latin community raises enough money to support a summer youth program: food, water, medical supplies, and materials for various activities. This year, one week was devoted to a summer camp in Nyacyonga, a village half-an-hour outside of Kigali, and another camp by Sainte Famille, a church in the center of Kigali. When our fundraising exceeds the bare minimum, as it always has, Latin's efforts are able to support a field-trip to Rwanda's national park, Akagera, for both camps; occasionally we have supported a winter camp, and sometimes we have been able to support special needs such as fees for boarding or secondary school and university tuition for some of the counselors who work with us, most of whom have come from the summer youth program themselves.

Most campers fall in the age range of 9-12, and the youth counselors (referred to as peer-parents) are between 17-25. Those with whom we work are HIV positive patients of

WE-ACTx for Hope,

a Rwandan NGO which runs an HIV/AIDs clinic headquartered in Kigali and provides free antiretroviral medication, psychosocial therapy, parenthood planning, and other resources to genocide survivors, sexual and domestic assault victims, sex workers, children and teens, young mothers, and many other Rwandans. WE-ACT's approach to HIV/AIDs care is personalized to 2,250 patients, as the complex situation many across Rwanda face — stigma, lack of education on sexual health, poverty, low food security, insufficient supply-chain of resources from suppliers to clinics — requires more than a once-every-three-months visit to one's health care provider for lab tests (

as is recommended in the United States

). We heard stories of children, many of whom are orphaned, who come in every morning to have breakfast and take medications with the children's advocate, Josee. Once the kids see that Josee is healthy, successful, and still HIV positive, they become encouraged to take daily antiretrovirals (ART's, treatment for HIV), be proactive towards their physical and emotional well being, and work against social — or, as unfortunate as particularly true in Rwanda, religious — pressures that there is

something wrong with them

. The same practice happens at camp: once the campers see the peer-parents full of life singing, dancing, and even having families of their own, they begin to believe that their lives are more than their status.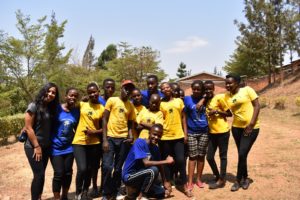 Camp at Nyacyonga, Week 1. The 30-40 campers at each camp are divided into smaller groups, with 3-4 peer-parents and 2-3 Latin students in each group. The groups stay together for dance, art, and yoga lessons. The photo above was taken after portraits of each camper was shot by Andrea Avila, the team's photographer and videographer. The portraits were then glued onto individual thank-you cards and handed to each camper at the camps' final performances.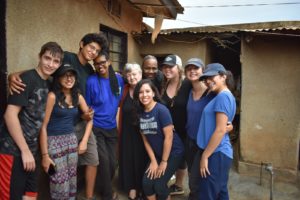 The team at Josee's home. After feeding us a hearty "snack," Josee shared with us ways she builds relationships with her youngest patients, her work as an advocate for adolescents in prisons, and her daily routines at the WE-ACTx clinic. She also talked to us about one of WE-ACT's holistic programs, where sosoma, an easy-to-make porridge, is distributed once a month in bulk to some of WE-ACT's most impoverished patients. Its purpose is to encourage patients to continue taking their antiretrovirals by having something to eat it with, as taking it on an empty stomach can make one nauseous.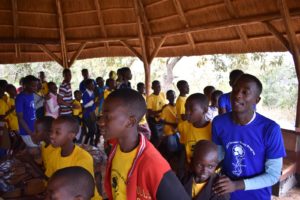 At Parc National de l'Akagera, where we took both camps to see giraffes, elephants, zebras, and other wildlife.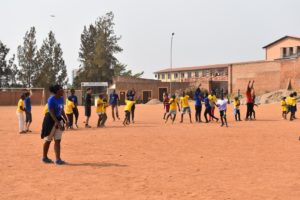 Camp at Sainte Famille, Week 2. At both camps, we began and ended the day the same way: together. Either in a circle singing songs or in the fields playing games, being in a big group allowed everyone to meet people outside their small groups.
When talking about the politics, economics, international standing, or social norms of Rwanda, one's observations are incomplete unless the country's history is included. In the spring of 1994, the country underwent a mass-scaled, government-organized genocide where approximately 800,000-1,000,000 persons were macheted, shot, and tortured to death in 100 days. Despite the Holocaust Museum in Washington, D.C. opening and beginning to sell its "Never Again" merchandise one year earlier, the genocide in Rwanda "accumulated at nearly three times the rate of Jewish dead during the Holocaust," and "was the most efficient mass killing since the atomic bombings of Hiroshima and Nagasaki" (Gourevitch,
We wish to inform you that tomorrow we will be killed with our families
). Additionally, it is estimated that 250,000 women were brutally raped, either killed afterwards or kept as sexual deliverers for
génocidaires,
"those who commit genocide
.
"
Neighbors killed neighbors, doctors killed patients, and teachers killed students all in the name of racial cleansing, of Hutu versus Tutsi, of us versus them.
As with almost every African nation in the late 19th and early 20th century, the "scramble for Africa" included Rwanda, and the caste-turned-race system was instituted by European colonizers. As explained in the Kigali Genocide Memorial Centre, the history of Hutus and Tutsis can be scarcely traced to places of origin, but colonizers (first Germans, then Belgians) decided who was Tutsi and who was Hutu based on how many cows a family owned, as cattle were seen as more profitable than herders: you were Hutu if you had less than 10 cows, and Tutsi if you had more than 10 cows. The Belgians were able to pervert the class rankings by insisting that there was an element of racial truth, and therefore natural social order. The majority Hutus were stereotyped as shorter, darker, and less civilized; whilst the minority Tutsis were taller, lighter, and had European ancestry, explaining why they were favored amongst colonizers and given more social, civil, and economic opportunities than their Hutu counterparts.
When Rwanda gained independence in 1962, Hutus secured power, and anti-Tutsi rhetoric grew stronger and darker until it became law in April 1994 that every Hutu in Rwanda had a duty to exterminate the inyenzi, or "cockroaches," referring to their Tutsi brothers and sisters, thus initiating the genocide. The scene in Rwanda was absolutely horrid, and the scars of humanity's worst crime are still fresh. And where was the international community? At home, or in Bosnia, or instructing UNAMIR (United Nations Assistance Mission For Rwanda, led by former Latin-speaker, Major-General Romeo A. Dallaire) to simply stand and watch the genocide happen. There was nothing to gain from going into Rwanda, especially if the mission would be strictly humanitarian; and as the United States was still healing from one of its dead soldiers being dragged in the streets of Mogadishu, Somalia just a few months before the Rwandan genocide, there was absolutely no way that one of the biggest influencers in the UN and western hemisphere would send any assistance to Africa, and others followed suit.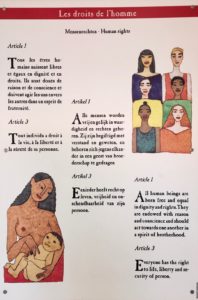 Les droits de l'homme
(human rights): This photo was taken at the Belgian Peacekeepers Memorial, the location where 10 UN Belgian Peacekeepers were tortured and bombarded to death by the genocidal government militias, causing the withdrawal of Belgium from UNAMIR. The memorial also recognizes other genocides of the 20th century, calling forth the 21st century be the century of humanity.
Considering that in 23 years Rwanda went from a no-man's land to a nation that hosted both the African Union Summit and the World Economic Forum on Africa just last year, shows, as the U.S. embassy explained to us, how remarkable its success story is. Just barely the size of Massachusetts, this country, overshadowed by neighboring Uganda, Tanzania, and the Congo, is beginning to lead the spirit of African progress. Much of Rwanda's success is due thanks to its current president, Paul Kagame, the major-general who ended the genocide with a rebel army of Rwandan refugees from Uganda. His administration has no tolerance for misconduct and prides itself on independence from foreign assistance. It seemed that everyone we encountered supported Kagame (we were even there for his third re-election, and, unsurprisingly, did not see other candidates' campaigns), but the U.S. embassy explained that many people are beginning to wonder what a post-Kagame transition will look like. The anecdote we received, was that Rwanda is cement curing in the container that is Kagame; once Kagame steps out of office, people worry that the cement would still be hardening, that Rwanda would not yet have stabilized. Instability is a true fear for a country that still has genocide survivors walking the streets, who still have machete marks, who still have rape scars, who still shut the city down every April in memory of the genocide.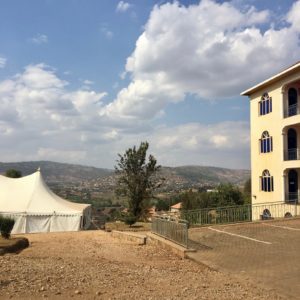 Depicting the red and hilly landscape of Rwanda, this photo was taken outside the Akilah Institute, Rwanda's top college for women — of our We-Actx partners, one is an alum and another a current student!
A program like Latin in Rwanda is quite special, for everyone involved. More than a service trip or a project week, although both wonderful in their own ways, there is nothing hollow about Latin in Rwanda — there can't be. From the moment students land and well past to the moment they arrive back home (our facebooks blows up everyday with messages from peer-parents), there is so much love and trust and human fondness that encompasses our time in Rwanda. After the genocide, it became atypical for Rwandans to trust each other easily, let alone foreigners (drinks, no matter if you are at a private home or an expat-heavy hotel restaurant, are opened in front of you because of this mistrust), but our experience, because so strikingly different and more affectionate than most, makes us question if that is really so. We joked throughout the trip that putting Rwanda into words is impossible, but I hope I have at least instilled interest into future team members. Your view on life will brighten and your faith in humanity will widen; you'll realize there are problems in the world you didn't know existed, but will become one of the sole aspirations for your role as a global citizen. You will help kids energize and learn to love themselves, unaware that they too are doing the same for you; and you will understand that, when it comes to loving someone, it has nothing to do with how long you have known them. Two weeks is an incredibly short time to meet someone, have simultaneous lives changed, and then separate for who knows how long. Nonetheless, Latin in Rwanda will always be a special gem in the Latin experience that everyone should have an opportunity to undergo. To my team members, and especially to Rwanda: murakoze cyane (thank you very much), nda gukunda (I love you)… how will I ever repay all of you?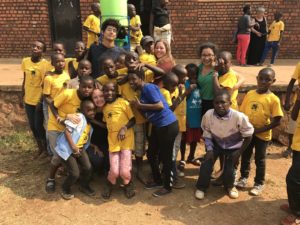 Our last day in Rwanda, taken at the end of our day with Sainte Famille campers.

]]>