<![CDATA[
By Maddie Karp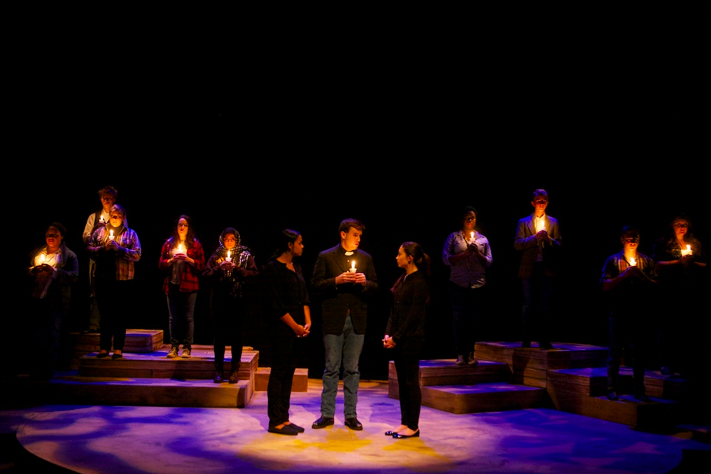 A few weeks ago, Latin's advanced acting company performed Moisés Kaufman's The Laramie Project. Derived from excerpts of interviews conducted by members of the Tectonic Theater Project on several of their visits to Laramie, Wyoming, this play tackles the controversial death of Matthew Shepard. Matthew, an openly gay student at the University of Wyoming, was brutally beaten and left for dead in a forest on one windy October night in 1998. Matthew was pronounced dead less than a week after his assault. The Laramie Project explores each character's dynamic take on Matthew's death.
The characters in this play are real people in the town of Laramie, ranging from shopkeepers to police officers to CEOs. Many of Laramie's residents begin the play with negative feelings towards the "gay lifestyle". Although most show remorse over Matthew's death, they also are wary of homosexuality in their small town. Junior Chris Quazzo, who portrayed, among other characters, Rulon Stacey, CEO of the hospital in which Matthew Shepard was declared dead, notes that the "evolution of [Rulon's] mindset towards homosexuality, which starts out as somewhat intolerant ends with a cathartic moment of realization and understanding." This cycle of acceptance is found in many of the other characters. Since the members of the Tectonic Theatre made several visits to Laramie to conduct interviews with the town's locals, they could track the emotional journeys of each of the townspeople they interviewed. In this way, Matthew's impact on Laramie is grimly positive. He brought the graveness of homophobia to the public eye, and his extreme case represented the general attitude towards the LGBTQ community in Laramie.
The umbrella theme of sexuality is particularly relevant in a setting like Latin, one that fully embraces the LGBTQ community. When asked what she wished the average Latin student would take away from this show, senior Grace Ebach replied, "I think at the very least the Latin community can simply learn about this case. Even though it's very well-known and important, especially throughout the LGBTQ community, the actual event took place when most of us were just babies or not even born yet. Just the fact that we were able to help our community learn about a real but very important tragedy was a blessing, and I hope at the very least audience members were able to walk away with some knowledge, and maybe some new perspective."
At our generally sheltered school, it is easy to forget that not every school is like Latin and not every city is like Chicago. There are cities and schools in which people still have enormous capacities for hatred towards others who do not share their values. Audience member Lila Patinkin comments, "It's scary to me that this stuff is still happening even after the mass media coverage of what happened in Laramie. And The Laramie Project made me more aware of that because it's hard to see members of our own community living through what happened in Laramie, even if they were playing characters. It's still them and it's scary to think that had we been born in a difference place–not even different time–we would be experiencing what they are experiencing."
It's hard to imagine getting into the head of a local Laramie citizen in the time it takes you to review for your French test, but that's what Latin's advanced acting class had to do every day. Chris Quazzo remarks, "The hardest part of being in the play was dealing with its heavy content on a daily basis. Because we met during the school schedule, we had to forget everything about school for fifty minutes in order to take on the serious subject matter of the show, which wasn't easy for us." The actors had to tackle the play's heartbreaking content every rehearsal, facing every day the tragedy of Matthew Shepard's death.
If you didn't see the play when it was performed at Wrigley Theatre, I highly recommend checking out the script. It's a story you won't forget.]]>