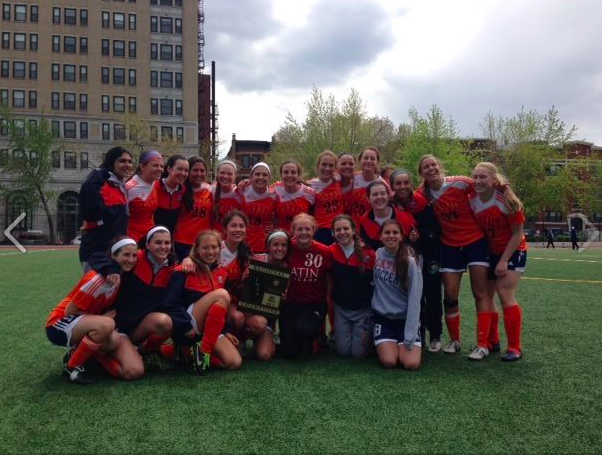 By Jake Milner
May has arrived and winter has left the Windy City (sort of), and that means it's time for the spring athletics season. Eight different sports are in session as the year comes to a close at the Latin School of Chicago: baseball, softball, girls' soccer, track, boys' tennis, boys' volleyball, and water polo. Some teams are in the midst of the playoffs, some are finishing their seasons, and still others are preparing for the postseason, so everyone's campaign is just heating up. Here's a team-by-team look at how the Romans are doing this spring.
Coming in, Latin's varsity baseball team was looking to build on a very impressive 2013 season. So far, that is exactly what they have done. A 5-1 mark in conference play and an 8-5-1 overall record are both best in the ISL. The Romans have five conference games left to play before regionals, giving them an opportunity to solidify their spot at the top of the league. JV has shown flashes of offensive brilliance this season. In their three wins, they are scoring an average of nearly 12 runs per game. The three losses have been a different story, coming by a combined score of 32-7, but they have the potential to put up a big number in every game. Both baseball squads have taken care of business against rival Parker. Varsity shut the Colonels out 7-0 in their first meeting and took the second by a score of 13-9. JV's most emphatic win of the season was a 13-0 slaughter-rule win over Parker. They followed up that performance with an 8-7 comeback victory in their second meeting.
Success on the diamond against Parker has not only been reserved for the boys. Varsity softball is having a tough season, going 1-6 without a non-conference victory. However, they stepped up when it counted, demolishing Parker 13-3. That game was their highest-scoring of the season, and they also allowed the fewest runs of any game they have played. Rain has not been kind to JV. They have only gotten a few games in, and the results haven't been as desired, but the team still has a chance to close out on a good note.
The girls' soccer team has also been taking their game outside to Lincoln Park this spring, and they have put on a show so far. Through 15 games, the Romans are 10-2-3 overall with a 4-1-1 conference record. In ten different games, they have either shut out their opponents or scored multiple goals. After a loss to Parker, the team rebounded with a five-game winning streak that included an undefeated performance in the Lakefront Challenge. On May 17, the varsity girl's soccer team defeated Parker at Parker to take home the IHSA regional championship for Latin. In an exciting, nerve-wracking game, the Romans were down 3-0 until sophomore Natalie Pontikes scored three goals to tie up the game. She scored her last goal with less than a minute left in the game, and the team "went utterly insane," says sophomore Jane Agler. "I think one of my teammates was tearing up. It felt like we were dreaming." Natalie herself was shocked as well. "To be honest, all three goals felt surreal," comments Natalie. "The whole team has been waiting for this game since the beginning of the season, and winning felt incredible. After the first goal, I think the team realized we really had a shot. The second brought the energy up like crazy. I don't know what was going through my mind during the goals, but the excitement from the team and the fans afterwards was amazing." After a stressful overtime, the Romans finally won during the penalty kicks, of which they only missed one. "I felt so nervous that my knees were about to buckle," notes Jane, "but Catie [Cronister] made an amazing save and one of the Parker girls missed." This has been the first time in six years that the girls' soccer team has won the regional championship, and with this victory, the Romans have broken Parker's five-year regional championship streak.
The track and boys' tennis teams have been enjoying the improvement in weather as well. Both boys' and girls' track earned third in the conference. Over the course of the season, several school records have either been challenged or broken. Senior Samantha Fifield is trying to break the school's high jump record, and senior Kelsey Barone is going for the triple jump record. Freshman Alden Sulger broke the school's record for the three hundred hurdles at a recent track meet. At the girls' sectionals on Friday, sophomore Keegan Barone qualified for state for the three hundred hurdles, and seniors Victoria Bianco, Madeleine McArdle, Rebecca Andruzzi, and freshman Maddie Hoffman qualified for the 4×800. The boys' team is getting ready for sectionals this Friday and hope to qualify for state. As the sunshine has gotten stronger, the performances turned in by the tennis team have done the same. A rough start to the season was followed by the Crusader Classic. Eight teams competed on a Saturday, and Latin tied for third in a competitive field. Since then, the team has participated in four matches and one tournament, the Roman Invitational, in which they finished fifth overall. All four matches have been decisive wins. Three consecutive 5-0 victories over conference opponents Parker, Elgin, and UHigh were followed by a 4-1 win over a solid Lane Tech squad. JV had convincing wins over OPRF and Parker in April, and they squeaked out a close one over Lab to finish the month. Their season comes to an end soon.
Aside from all the talk about the warm spring breeze coming off Lake Michigan, teams are playing inside too. The varsity boys' volleyball team has had a tough campaign, losing three games in the third set en route to a 4-10 start. The highlight of the season was a three-set victory over Whitney Young that was tight the whole way. The final score was 21-25, 25-23, 25-23, and the team showed some real heart to pull out a hard-fought win over a good team. JV has also experienced some tough losses, going down twice in the third set. Wins over Lake Forest and, most recently, Northside Prep give the JV something to work off of as they get ready to close their season.
Finally, boys' and girls' water polo are both fighting for victories in the pool. After winning just one game in their first 11 tries, varsity girls' water polo has won three consecutive contests, two of them coming over Argo Community High. Their third win came over Ogden during the Latin Invitational. Hopefully, the Romans can build off of their recent success. The boys' team won four games during the regular season, and they just started their sectional play with an 11-10 victory over Whitney Young. Their next sectional game is against De La Salle.
As exams week and, dare I say it, the summer, approach, every Latin team has a chance to define their season. Some teams have conference games left to play, and others have the playoffs to look forward too. In these closing weeks of the 2014 spring season, the message remains the same: Go Romans!
]]>