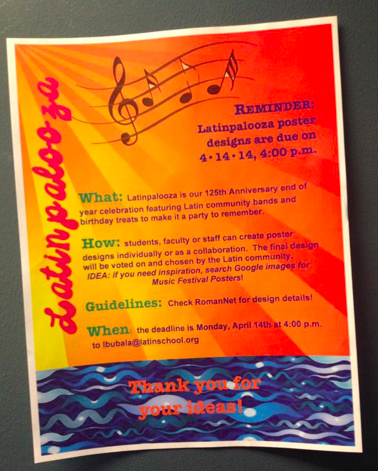 Coachella, Woodstock, and even Lollapalooza may have met their match, for this year, 2014, 2k14, Year of The Horse, and Year of The Polar Vortex, is the first ever Latinpalooza. In honor of our very own Latin School's academic and athletic reign of Chicago, the members of this establishment have decided to open the eyes and ears of our fine city to Latin125's outstanding musical prowess.
You may have heard the announcements at assembly or seen the signs, but the details of the allusive Latinpalooza have not yet surfaced. I have been able to scrounge from various sources that it will take place May 21st, from approximately 1:00-3:00 PM; however, these hours may be subject to change. "Better snatch up your tickets soon! They're selling out quickly, and if you don't act, you won't get in!" said NO ONE! All Latin students, parents, staff and alumni are welcome! This is sure to make for a lively crowd! Safety Pro tip: If you plan on bringing a fanny pack, make sure it's buckled all the way and is facing forward—wouldn't want to lose a phone right before summer! Another general warning: if someone is selling Latinpalooza tickets online for LESS than $250, they're fake and access will NOT be granted.
Lollapalooza posts its lineup months before the actual festival, as do the majority of other large musical gatherings, but Latinpalooza, being the mysterious jubilee that it is, has not yet released the names of the performers from Latin. However, the perks of writing for The Forum have granted me the exclusive pleasure of grabbing a quick word with Sophomore Allie Kersten, a known singer and performer, who is confirmed to be singing with several groups at Latinpalooza 2k14. Allie is most excited about "being able to perform outside, a lot like the Lollapalooza, and experiencing a new type of performance." This renowned singer will be appearing twice, once with Jake Milner and Grace Coberly, and the second time with Molly Newmark, both groups highly expected to be comparable (in energy) to Lollapalooza 2013's showing of Steve Aoki. Be sure to keep an eye out for her through the chaotic excitement of those attending.
Of course, the second largest component of all music festivals is the clothing. There have been many speculations as to what the biggest trends will be—flower crowns, high-waisted shorts, and crop-tops being some of the most popular at Lollapalooza as well as hippie/indian garb at Coachella—but we can only guess who will wear what to Lat-Palooz. When posed with the question of what the trends this year would be, Sophomore Dean Ms. McCarthy replied, "I'm pretty trendy myself, so popped collars and like the 'preppy' look, you know?" Fashion tip! Try to avoid places as commonplace as Urban Outfitters—everyone goes there. Hit up those online stores! Try googling, "shops like J.Crew but less expensive."
All in all, there is still little known about Latinpalooza, including whether it will be replacing the well-loved and known Bazaarnival, how it will be set up, and who will be performing. But one thing can be assured: a whole new music festival experience with a Latin-type twist.
]]>