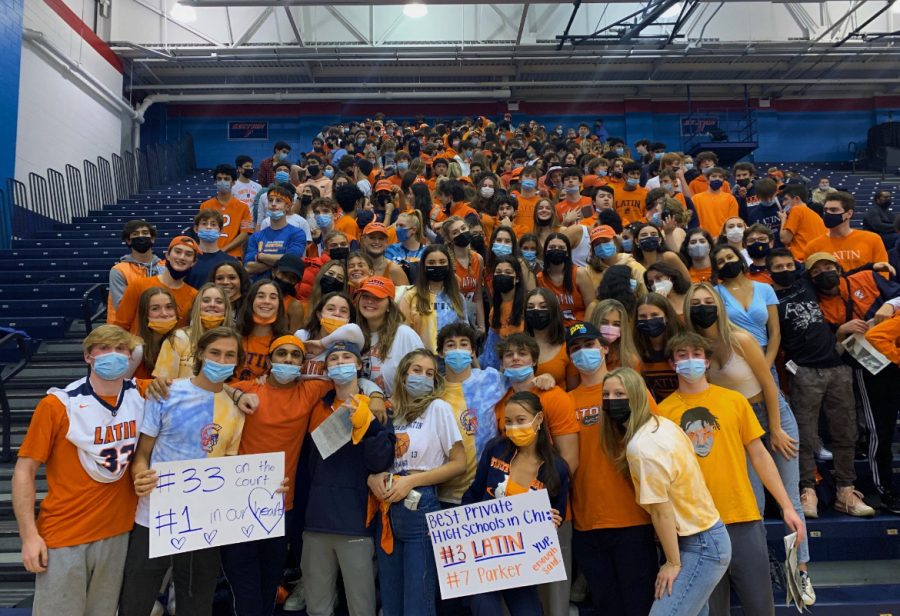 Shreya Wojno
Latin's favorite sporting event returned to DePaul's Sullivan Athletic Center with a hard-fought 68-67 win for the Romans. It had been two years since the epic rivalry between Latin and Parker took place on DePaul's court, and with its return, both the freshmen and sophomores got to experience the excitement for the first time, and the seniors took in some of their last moments from the front row or the court.
The freshmen and sophomores went into the game with certain hopes, expectations, and thoughts about what their first DePaul games would be like.
Freshman Natalie Arora said, "I'm not sure what to expect at the big Latin vs. Parker game, [but] I'm excited to see how our big rivalry plays out. I think that this game will carry a lot of school spirit and hopefully a big win."
Sophomore Quinlan Smith said, "I am definitely expecting a loud atmosphere. Our Homecoming game against Parker was loud, and it was outside, so I think it's going to be even louder inside."
Sophomore Jolie Stojka said, "I am expecting a very intense game with many supporters. I am very excited because I want to see us play Parker." She explained, "Lots of my friends have told me that everyone goes to this game to support and cheer on the team."
Freshman Casey Mitchell went to the games when she attended Latin's Middle School and said that she would always look forward to them. "When I would [go] to the games, I would always be with my friends at the top of the bleachers. I was always in awe of the high schoolers with all their posters cheering loudly when someone scored and having so much fun," she said.
Casey explained, "I always thought to myself how fun it would be in those stands cheering on Latin as a high schooler, [and] I am hoping and expecting that it will be 10 times more fun now that I am a freshman."
The game itself was a battle that the Romans never stopped fighting. Parker was leading for the entire game and even had a 15-point lead with four minutes left on the clock, but with 13.9 seconds left in the game, senior Reed Rasmussen hit a 3-pointer to put Latin in the lead. Parker was unable to score in the final seconds, giving Latin a remarkable win.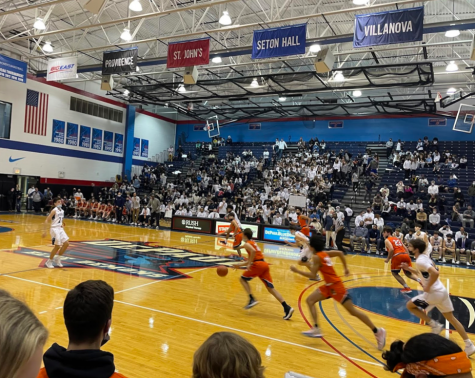 The top three Roman point leaders were senior Ryan Kramer with 19 points, senior Reed Rasmussen with 14 points, and sophomore Reeise Remmer with 12 points.
Senior captain Tommy Newman said the game was a great learning experience. "Up until the last four minutes of the game, we hadn't been playing our best game as a team," he said. "We only scored around 20 points in the first half, when we could have scored 40. On defense, we let up about 35 points in the first half, but we could have kept them under 20."
"Regardless," Tommy said, "we were extremely resilient in those last four minutes and came back. We had Kai Lugo and Pierce Schlesinger come in and bring a ton of defensive energy, which stopped them from scoring, Reeise Remmer had some super clutch free throws, and Reed Rasmussen's game-winning shot was insane. Overall, I am really proud of our team for how we turned the game around."
Sharing Tommy's sentiments, Reed Rasmussen said, "I think we started off slow as a team. We weren't playing like ourselves, and the atmosphere and energy of the stadium made us rush our decision-making on the court. By the end of the first half, we were definitely demoralized, but we used that to fuel us in the second half."
When asked how it felt to get the game-winning 3-pointer, Reed said, "Honestly, it still feels unreal. I still can't believe we came back and won, and I'm very proud of the whole team for persevering through a rough start and putting everything they had into the game up until the very end."
Kai Lugo, a senior on the team, said, "I think I can say that this basketball game was the most exciting game I've been to or participated in ever at Latin."
Kai discussed favorite moment from the game. "When Parker had the last possession, the game nerves were pretty high, and when we finally won with our only lead of the game, it was so rewarding when everyone rushed on the court to celebrate."
Kai added, "I think it was a really great moment for not only the basketball team but the Latin community."
After the game, Natalie said that the event exceeded her expectations. "Our players were very determined and pulled through when it counted, [and] my favorite part of the game was when Latin won and the stampede of orange took over the court." She said, "The score was so close towards the end, I wasn't sure who was going to win."
Quinlan said, "The game was really fun and the atmosphere was amazing. My favorite part of the game was either when a Parker player air-balled a free throw, or when Reed [scored] the 3-pointer."
Jolie said, "The game was intense and I did not expect it to be as exciting as it was. My favorite part was seeing how many people wore orange to school and at the game."
And finally, Casey shared, "I think it's safe to say that this was the best Latin vs. Parker game that I have ever watched. Even though we were down almost the entire game, [we] still managed to win by one point, [which] was amazing. The excitement that rushed through both me and the stadium when the 3-pointer was shot will be a moment I will never forget."
Reed said, "It was a very eventful and exciting game, and it was amazing to see how many Latin fans came and supported the team. Hopefully, we come out with more energy in the next game and not have it come down to the final seconds. Go Romans!"