Spring Sports Begin!
Latin's spring sports seasons begin in early March, and they will look quite different from previous years. The sports that will take place in the spring are boys soccer, girls field hockey, girls volleyball, and boys and girls water polo. These sports usually take place in the fall, but their seasons were moved to the spring due to COVID-19 protocol.
It has been a complicated year for high school sports with the pandemic and season shifts, particularly with large influxes of new players joining teams for the first time. Nonetheless, athletes who play spring sports are eager to be back on the field, on the court, and in the pool.
Boys soccer, which will be led by senior captain Colin Campbell and junior captain Sam Gibson, will start on March 1 and go until April 17. Colin said, "I'm super excited that I will get some type of soccer season for my senior year, and I think it'll be interesting having it in the spring as opposed to the fall." With the season taking place during the pandemic, Colin said, "We must wear masks at all practices, indoor and outdoor, and all games. This is new, and it will impact the way we play, as soccer requires lots of endurance, and running in a mask makes it more difficult."
"I'm welcoming to all those wanting to try and play soccer for the first time because of the unique schedule," Colin added, emphasizing that "Latin soccer plays to win every game possible, [and] we always plan for the future. Whether it means getting new freshmen, or a junior who has never been able to play, we are stoked to have them on the squad." He added, "It's important that newcomers understand the JV and varsity dynamic of Latin soccer, and how seniority doesn't always warrant a spot on varsity."
First time Latin soccer player Parker Bigornia, a junior, said, "I'm excited to play [soccer] this year because I used to love playing travel soccer while I was in middle school, before I had to choose between golf and soccer [at Latin] since they're the same season." He noted, "I'm not too nervous about being new to the team this year, because I know a lot of the other [players] on the team from other sports." Parker went on to say, "The one thing that is making me a little nervous is that I haven't played much soccer since starting high school; however, I'm hoping it comes back to me quickly."
Girls field hockey will also take place from March 1 to April 17, and the team will be led by senior captains Lily Prostic and Maya Gray and junior captain Vivie Koo. The season itself will have a normal practice schedule, and there will most likely be one game a week. With the season set during a Chicago spring, weather will definitely come into effect. Maya said, "Normally it gets colder as the season goes on, but this year it will be warmer and rainier, so it will be intriguing to navigate that."
In response to the season starting, Maya said, "I'm very excited that we get to have a season, and I'm especially excited about all of the new [players] joining the team." She said, "I love field hockey, and I can't wait to share that joy with everyone on the team, no matter how long they've been playing." Maya went on to say, " I hope every new player will stick with it (pun absolutely intended) when the season goes back to its normal time." There are some additional thoughts in the article on how Field Hockey Players Respond to Spike in Team Size, which was published earlier this school year.
First-time field hockey player Phoebe Lembeck, a junior, said, "I'm excited to join the field hockey team because I've always wanted to try the sport, but I couldn't because I play tennis in the fall." She said, "I was a little nervous about not knowing how to play, especially as a junior, but after attending the off-season practice I felt better because I met everyone on the team and learned how to play." Because she has never played field hockey before, Phoebe said, "I'm not putting too much pressure on myself, and I want to have fun while learning the sport."
Girls volleyball will start a week later than field hockey and soccer, and it will go from March 8 to April 24. The captains are seniors Carter Golterman, Ava Torterello, and Rachel Schofield. "I'm really excited to get back with the team," Rachel said. "[Latin volleyball] is a totally different experience from my club [team], and I really miss the community that school volleyball gives me." Rachel shared her thoughts on new players joining the team, saying, "I love when new people join the team, specifically freshmen. I think it's a really great way for them to make new friends and meet upperclassmen."
In terms of COVID-19 restrictions, Rachel said, "We have to wear masks during every practice and game, and we are only playing within the ISL. However, she noted, "There are a few slots to play out-of-league games, which I'm not sure will happen." Rachel concluded, "I hope that we can have a few people cheering at our games, [because] it brings a lot of hype to our team."
Boys and girls water polo will start later—both are set to take place from March 15 to May 29. The boys team will be led by senior captains Sam Szykowny and Cole Lindemann, and the girls' team will be led by seniors Vivi Kaufman, Rebecca Wanger, Elena Skender, and Alexa Sreckovic.
Sam said, "I am really excited about water polo starting. Even though we took some time off due to COVID-19, swimming has helped the team get back in shape, so we are all prepared, and we have new players, which is really great." In terms of the impact that COVID-19 will have on the season, he said, "We will probably have to wear masks when we aren't in the water, but that is the biggest change. The only other change might be who we play, because we can only play certain teams within the region." Sam added, "I'm super glad that people were able to join [the team] because of the change in seasons."
Elena said of girls water polo, "As a team, we'll be distancing as much as possible in the pool, although that's not always possible for some drills and scrimmaging." She noted, "It's going to be really important for the team to make good decisions outside of the pool so that we limit the risk of someone on the team getting COVID-19."
Senior Freddi Mitchell will be joining the water polo team for the first time in high school. "I actually played water polo for Latin's Middle School team, but I quit in high school so that I could play softball instead," she said. "I am looking forward to the season, but I am scared that I will not be as skilled as the other players." She went on to say, "My friends Elena Skender and Vivi Kaufman were nothing but encouraging when I told them I wanted to join, even though the team has been together for a while." Freddi concluded, "The people on water polo are some of the most welcoming people in the school, [and] I'm glad that I get a chance to play on the team before I graduate."
Leave a Comment
About the Contributor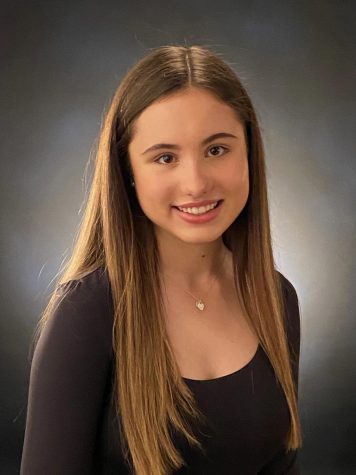 Lily Coleman, Media Editor
Lily "Pickle" Coleman (22') is a senior at Latin and is thrilled to be serving as Media Editor this year. In her time on The Forum staff, Pickle...