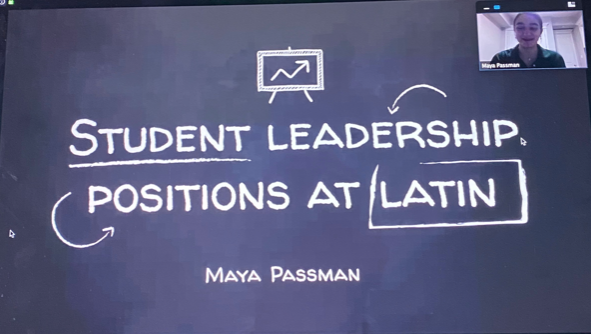 Latin's student government is no stranger to criticism, but on Thursday, seniors Maya Passman and Joe Kennedy offered long awaited solutions to the organization's biggest issues. Over ninety students, faculty, and parents tuned in to Zoom to watch the students present their student government related senior projects. Informed by months of research, Maya uncovered the group's long standing lack of female representation, while Joe drew on inspiration from schools across the country to create a new organizational structure. If approved by the administration and student body, their new plan will go into effect in the fall. 
Maya pointed out that despite Latin's majority female population and majority female club heads, the current student government is 80% male, and this group is far from an anomaly. "The goal of my senior project was to explore the gender imbalance between elected student leadership positions and teacher selected leadership positions," she said. "In the 2020 school year, we have the same percentage of student government that is female that we had in 1953." What's more, every decade with the exception of 2001-2010 had disproportionately male student governments. 
If our school is supposedly making strides in gender representation, it seems strange that this disparity still exists. When Maya asked students what they look for in a candidate, they primarily used phrases like "funny" and "confident." 35 out of 77 students said that they choose a candidate based on their sense of humor, to which Maya asked, "Who gets to be funny? Who are the most popular comedians? How many of those are men?"
Beyond getting elected, how does a sense of humor make one a better candidate? "Funny doesn't get us change, hard work and ideas do," Maya said. Perhaps this hard work has something to do with the fact that Latin's girls, while often perceived as less funny, have a higher reelection rate than boys. "I'm not telling you who to vote for, and I'm not telling you to vote based on gender, but I'm telling you to vote based on who you think would do the best job."
While Maya stressed educating students about voting responsibly, Joe's plans tackled the other side of the issue. His new election process would require that before campaigning, students have a conversation with a current prefect about the responsibilities of the job and submit an application to administration. 
Joe's plan goes beyond getting the right people elected. He said, "Even if there is diverse representation at student government meetings it makes no difference if only three voices are talking." He hopes that by creating clearer job distinctions, there will be more space for members to speak up. As opposed to having four general representatives per grade, each grade would have one social, one communications, and one co-curricular rep, and instead of meeting as an entire student government, representatives would meet with their respective committees. Ideas from these meetings would be passed on to the junior and senior prefects, who would each have their own faculty advisor to help put new ideas in action. 
Involving other student organizations would further increase diversity of thought. Joe said, "It's no longer enough to hope that we have diversity, we can be purposefully inclusive and purposefully diverse and that's what we have to do." For this reason, he recommended that SDEC and SAB heads join prefect meetings. 
If more ideas and perspectives were heard, student government would be able to tackle bigger projects. According to Joe, "The most frequent criticism of student government is that it's just a party planning committee, no offense Angela and Pam, but we would like to be something more."
By teaching students to vote responsibly, encouraging qualified candidates, and ensuring that all ideas are heard, Maya and Joe hope that Latin's future student governments can be productive and representative of the student body. With these two graduating, it falls on current freshmen, sophomores, and juniors to turn their vision into a reality. As May's elections draw near, Maya said, "Encourage people to run for the reasons they want to run." With the right candidates and the right structure, student government could finally become what students want it to be.