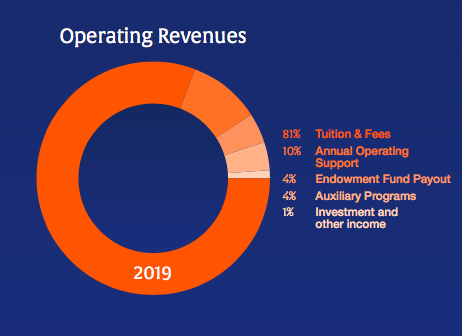 Latin School
On April 10th, Latin's administration announced via an email to the community that it will not be refunding any tuition from the 2019-2020 school year. The decision may have elicited disgruntled sighs from parents who feel that remote "e-learning" can't be equated to physically being in school, but, arguably, it was justifiable—teachers still have to be paid, software needs to be purchased, and legitimate efforts are being made to develop an engaging curriculum for students.
Controversy arose, however, when the Board of Trustees announced in the same email that the school would apply for the Paycheck Protection Program, a stimulus-bill package designed to encourage small businesses and nonprofits to keep their employees on the payroll. Because Latin has fewer than 500 employees, it qualifies. 
One might wonder: is the school really making an ethical decision in choosing to apply for the program? Are they taking money they don't really need, money that could instead go to help a mom-and-pop corner store that forgot to apply earlier?
First, some background on the program. The Paycheck Protection Program made available $349 billion in forgivable loans through banks and other lenders. If the business receiving the loan spends at least 75% of it on payroll expenses, the loan is completely forgiven—basically, it becomes a grant. And even if the applicant chooses to spend it on other things, the loan is offered at an exceptionally low interest rate (1% for a two-year term). 
PPP presents a lifeline as the COVID-19 crisis has crippled businesses of all sizes across the country. Many of those businesses have lost nearly all of their revenue—think travel agencies or hotels—and some are struggling to tread water, like restaurants and small shops. But Latin, on the other hand, is lucky: they get to hold on to tuition.
Consider the numbers. Last year, Latin made $50.217 million in revenue. Tuition was $40.507 million of that, or 81%. Thus, the vast majority of Latin's revenue is, effectively, safe from the crisis.
That said, 19% of a large amount of money is still a lot of money. 
"It makes sense to cover the shortfall if near 20% of the budget is affected," said Rashail Wasim, an editor of Latin's political magazine, Discourses.
But the thing about crises is that damage is relative. Other local businesses and nonprofits have lost virtually everything; retaining a guaranteed 81%, to them, would probably be a huge relief. 
Moreover, although $349 billion seems like a lot, it's actually a very limited supply of cash. As Kelly Anne Smith, a personal finance journalist for Forbes Magazine, said, "The whole program in itself is a mess, and it's already running out of money. It's almost reached its limit. Hopefully, Congress will add more funds." 
On April 16, Smith's predictions came true: the Small Business Administration announced on its website that the Paycheck Protection Program had officially run out of money. 
Granted, it would be an oversimplification to assume the crisis won't cause a sort of domino effect on Latin's expenses. Marianne Mihas, a future-head of the Latin Student Investment Fund, said, "if you think back to the last time the economy took a major downturn, in 2008, there will have been many more families in need of financial aid from Latin. Also, I'm sure it's much harder to find families to fund those extra scholarships during these times."
Headmaster Randall Dunn ultimately validated Marianne's speculations. "At a minimum, we anticipate financial aid needs to increase, the payout from our endowment and annual giving to decrease. We may also experience increased costs and decreased revenues in other areas depending on how and when we are able to resume school in person," he said in an emailed statement to The Forum. 
"The board made the decision to apply due to the high degree of financial uncertainty the pandemic presents and our responsibility to mitigate this risk as much as possible for Latin," explained Mr. Dunn. 
Georgy Ann Peluchiwski, chair of the Board of Trustees, declined to comment due to the board's "policy of referring all inquiries to the school."
A final thing to keep in mind is the financial changes that arise under the remote learning model. Even if the building remains open—which, for maintenance and upkeep, it currently is—typical operational expenses are likely to decrease to some extent without students in the building. Of course, the most expensive aspect of e-learning is the faculty payroll. But last year, Latin paid its faculty about $33 million, over seven million dollars less than the aggregate tuition. 
"Latin has a huge endowment fund and has enough money to keep paying teachers for their work. PPP is meant for small businesses trying to stay afloat," said Maeve Healy, another Discourses editor.
"The program should not be something for Latin to latch onto," echoed Freddi Mitchell, a politically-active junior. "Restaurants and local nonessential businesses truly need these loans. Parents sign a contract stating that they will pay tuition for the school year, while nonessential businesses cannot bind their customers to support them." 
Ultimately, the controversy around Latin's decision to apply for PPP boils down to a simple question of where we prioritize our community in the grander scheme of the economic crisis. To paint Latin's administration as a money-grubbing oligarchy that finds joy in stealing from your favorite restaurant would be unfair. Objectively, Latin does need money right now, as does nearly everyone else. Paycheck Protection money (if granted), in turn, will go to paying employees and defraying the necessary costs to advance the scholarship fund—a benevolent cause indeed. 
To turn a blind eye to the ethical implications, though, would be equally short-sighted.
Update: Latin to Return All Paycheck Protection Funds